How You Can Help Your Kids With Their Book Reports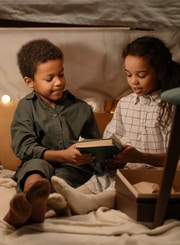 Writing a book report need not be difficult. However, kids do dread it because it seems like an overwhelming task. If that is the case with your kids, let them know the first step in the process can actually be fun. They simply need to book they will enjoy.  From there, here is how you can help them with their book reports.
Read the Book and Take Notes
A good place to start would be the book itself. Reading the source material will help you understand the key points that the book is trying to make. It will also allow you to capture the main ideas that the writer is trying to convey. Unless you read the book, you might miss out on the many details hidden between the lines. And without these details, the book report may feel incomplete.
Kids are often oblivious to these minor details, and they have a higher chance of running past them while reading the book. Hence, it is your responsibility to take notes of such details, and then help your kids realize their importance.
For taking notes, you should follow a chapter-by-chapter approach. Maintain a separate set of notes for any characters mentioned in the story. Word meanings are important as well if you are doing a report on a book of poems.
Along with those, you might also want to make notes on the various similes, metaphors, and analogies mentioned in the poem or story. This will make it less difficult for kids to make sense of these things.
Go Through Existing Reports and Summaries
While reading the book is the ultimate approach to writing a book summary or report, it is likely to feel monotonous at one point. Plus, after a certain time, you might start missing out on certain details within the book that are crucial to the plot. In such cases, it is always a wise decision to go through existing book summaries and reports before you help your kids write theirs.
Of course, you will need some expert opinion regarding the matter, which is why you should look for reports and summaries on trusted websites and platforms only. SweetStudy's new book summaries section is the ideal place to look for this purpose. Each book listed in this particular section of the website has a critical review of itself written by literature experts.
The books also contain helpful notes. These notes are available for each chapter of the book. The chapter-wise notes make sure that you do not miss a single key detail that is vital to the plot, or any sort of character development.
While going through the existing reports and summaries, you should make notes of your own. These notes, paired with the knowledge you gathered by reading the books, will be more than enough to start working on the book report.
Help Your Kids Realize the Main Ideas of the Book
You have everything you need to help your kid with their book report. However, it is not enough, at least not yet. Your understanding of the book, its plot, characters, and the way it progresses will not be the same as your child's.
Thus, it is important that you help them realize the main ideas of the book, as well as the key takeaways from the notes you took. Here, you are to incorporate your findings from the book, and the chapter-by-chapter notes you got from SweetStudy, or whatever book summary repository you used.
Once you have everything ready, you start helping your kids with difficult words or phrases and help them understand how analogies and similes work (if they are necessary for the book report).
To help them realize the main ideas of the book, you must first ask them what they think is happening, what the takeaway is, what is the writer/characters trying to say, what the emotion is for a certain scene, and so on. Afterward, you tell them whether they are right or wrong and if wrong, inform them why.
Start Writing
A typical book report has three parts:
Introduction.
The main body.
Conclusion.
Ask your kids to make subsections in the main body. For instance, the subsections can be something like characters, key plot points, plot twists, etc. Subsections can also talk about noteworthy scenes in general, like for instance Hamlet encountering his father's ghost for the first time in Shakespeare's Hamlet.
The conclusion can be a personal note from your kid on what impact the story or book has in literature or their personal lives.
And with that, your kid will have a perfect book report if not the best in their class.
Additional Writing Resources