A Parent's Guide to Setting Up Smart TV Safely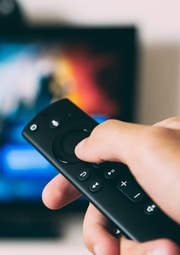 Smart TVs function just as regular TVs but with internet connectivity, like smartphones. They have built-in apps as well as capabilities to surf the web, send emails, access social media platforms, and stream videos on Amazon Prime Video, YouTube, and other similar streaming services. 
In the second quarter of 2020, Netflix had 72.9 million U.S. subscribers, so there's no denying how popular smart Tvs are. However, with the advent of this technology, designed to access the internet using interfaces like Apple TV or the Fetchbox, there is a glut of content alongside child usage risks that parents need to consider.
With that in mind, here's the Safe Search Kids guide to setting up a smart TV, plus some advice on how to ensure your kids search safely.
Parental controls on Smart TVs
Before purchasing a Smart TV, it is good to be aware of the parental controls available. Also, make sure you can create different user profiles, including setting up a child's account.
To understand each parental control on a brand of Smart TV, go to the specific manufacturer's website. You can also utilize this free database to learn about how to set up these controls.
If you have a regular TV but are considering buying an Android TV box to give you the ability to stream content and access online apps, you will also need to set up parental controls.
To do this, select the "Settings" icon (the little cog in the upper-right corner of your screen). Next, click "Parental Control" which is below the "Input" option. This will take you to the Parental Control settings. You can find more information on this here.
Potential privacy risks of a Smart TV
Unfortunately, most digital inventions are not without some degree of risk. Like a computer or a smartphone, Smart TVs have access to inbuilt cameras, audio recordings, personal data, and social media data. It is essential to read the privacy policy when a manufacturer releases a software update.
A voice-recognition Smart TV can keep data of what you are saying, searching for, and watching. This information is used to provide you with adverts suited to your preferences.
To set up privacy settings accurately, do not go for a quick set-up, but search for custom settings that allow you to turn on or off each privacy feature. It is advisable not to download any suspicious software on your Smart TV as there is no anti-virus developed for Smart TVs yet.
Apps
As with smartphones, apps are installable on Smart TVs. Some apps require a subscription fee like Netflix and Amazon Prime to access and enjoy the features. Others may require additional tweaking of settings to function properly.
Remember that these apps don't come with in-built parental control settings, and your kids can view inappropriate content. Hence, the need to canvas through the TV manual or guide to further set these controls. Another feature accessible on smart TVs are social media apps. We have a guide you can read on how to protect your kids on social media.
Even if they are merely gaming apps that claim to be child-friendly, you still need to know the gaming apps' PEGI rating.
Managing streaming content
If you have allowed streaming services such as Netflix, YouTube, and Hulu to run on your Smart TV, you have to set separate parental controls for each of the apps.
For the various streaming services, you can find out how to set parental controls here: Netflix, YouTube, and Hulu.
Internet filtering and connectivity
Almost all Smart TVs offer built-in Wi-Fi to access your home network and the internet. Although ethernet provides a faster and stable internet connection, smart TVs come in-built Wi-Fi that leaves no cable trails lying around.
Internet filtering is a must when protecting kids on the internet. With a simple Google search, you can easily find a trusted internet filter software and apps for parental controls that allows you complete control over your kids' access to the internet. Many other apps are designed to keep your kids safe online and give you peace of mind.
 Browsing
Once you have set up parental filters on the broadband-connection to your smart TV, you don't need to worry as your children surf the net. Just as with other devices connected to your router, won't smart TVs allow the display of inappropriate websites or content after this one-time set-up.
Parental filters allow kids to watch child-safe content from YouTube or Netflix, via the web or app. It is essential to set browsing limits for all devices in your home, which has internet connectivity.
 Content
The only thing to keep in mind is to be thorough in the content you allow your kids to access. There are many children-designed channels provided on Smart TVs.
Look at the channels offered for children on the streaming services you have subscribed to and ensure you are satisfied with the kind of program your kids would be viewing. Some streaming services allow you to create multiple user accounts with age limits features.
Screen time management
Before setting up a way for kids to manage their screen time, ensure that all the inappropriate sites and content are filtered out of your home network broadband.
If you have not already done that, limiting your child's screen time won't change much. You can now use helpful screen time management software designed for parents to monitor and control their child's access to the internet and screen time.
Final thoughts
As more content gets uploaded on the internet daily, there are growing concerns from parents who want to protect their kids from inappropriate content. The number one thing to do however is to set up parental controls on all the smart devices at your home.
Parents can now monitor their kids' access when surfing the internet, even via smart TVs. With digital services, it's best to continually update the apps and devices' settings, especially if your child has access to them.
Finally, remember to chat to your child and instill a good screen-time to off-screen time balance. The American Academy of Pediatrics recommends no more than two hours of screen time for children and teenagers per day, and absolutely no screen time for children under 2. Too much screen time can not only disturb children's sleep patterns, but increase the risk of emotional, social, and attention problems, and even obesity.
Safe searching!