How to Prepare Your Kids for their First Day Back To School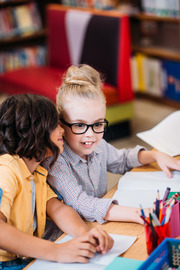 With summer coming to an end and back-to-school season right around the corner, there's no better time to prepare your kids for their first day back in the classroom. In these times, there may be heightened anxiety surrounding both in-person and online education options.
Many parents are concerned about their child's physical and mental health, socialization skills, and even their ability to manage challenging curriculums. If you are experiencing similar worries, you are not alone. We have pulled together a few tips to help get you and your family in the best position to tackle the new school year and prepare your kids for their first day of school.
For Your Kids
Communicate With Your Kids
Communicating with your children on a regular basis creates a space where they feel comfortable to voice their opinions and concerns. It's also the best way to understand how they are truly coping with the approaching school year.
Set aside time each night to listen and converse with your kids about their day, allowing them to express themselves with no judgment. When sitting down for a meal together, initiate a conversation using some relaxed conversation starters that get the dialogue flowing.
Leave all electronic devices turned off or in another room so that everyone is present, engaged and the conversation goes uninterrupted.
Meet with your kids one-on-one for more serious discussions, giving them a safe, quiet space to open up about how they are feeling mentally, or give them a chance to express excitement about the impending school year!
Communicating with your kids one-on-one also gives you a chance to learn about their current interests. Incorporate them into their back-to-school gear or activities to make your kids more comfortable and excited for their first day.
Familiarize Your Kids With the Classroom
Younger children can often be intimidated by a new classroom setting. Take time before their first day to tour the classroom if possible, as well as the school grounds.
Familiarize your kids with their teacher as well! Schedule an early meeting time on their first day of school so everyone can get to know each other. This can relieve some anxiety for both you and your child, and make the transition to a new classroom go a little smoother.
If your kids are online students, allow them to help design their workspace to make it an area they enjoy being in, while being sure it's a space that supports their ability to focus and learn.
Look into ergonomic seating and desks that grow with them so they can use their learning space long-term.
Be sure to walk through the digital "classroom" as well to allow you and your child time to adapt to this hybrid learning environment. Knowing where assignments and important announcements are located online prevents unneeded stress once the school year ramps up.
Get Your Kids Organized
Back to school season gets hectic quickly, so start your back to school shopping now! Make sure they have the gear they need to start the school year off prepared and organized.
Buying new can get expensive quickly, so consider shopping second-hand to find back-to-school outfits that are like new. Bring your kids along so they can pick out outfits that match their style and interests. Feeling good in what they wear can give them an added confidence boost on their first day.
Getting your kids organized goes beyond just having the right binder, pens, and backpack. Be sure to get them organized mentally as well. Summer often gets kids out of the regimented routine of a school day (as it should). But, this can hinder their focus going into the new school year if not addressed in the preceding weeks.
Start by adjusting their daily routine, so that the transition to the school day is more seamless. Earlier bedtimes and wake-up times will help to get them conditioned to waking up early for class.
Balanced nutrition also helps to improve their focus and keep them from needing a snack throughout the day. The food we eat directly affects our ability to focus, our overall energy levels, and our ability to fight off illnesses. Be sure to fuel your kids with the right food to get them feeling their best as they begin the school year. Also, use this time to learn what kind of foods they like to make sure they are eating a balanced meal that they enjoy during the school day.
For Parents
Stay Up to Date
Staying up to date with the latest school news, trends, and even health advisories can give you peace of mind when it's time to send your kids off to school.
To avoid getting overwhelmed with information, search for resources that summarize information into digestible social posts, podcasts, or news articles.
Or, for more medical related news, consider following local health providers on social media to get quick, summarized, and updated posts on health conscious tips. For example, providers like Health Net utilize their facebook page to deliver timely advice for their customers, while WebMD's podcast "Health Now" provides episodes that deliver timely advice to listeners. There are so many ways to remain up-to-date without inducing panic, you just have to find what works best for you and your family.
Reach out to your school district to find ways to stay connected and up to date with the steps they are taking to keep everyone safe and healthy, and also reach out to your child's teacher! They can walk you through their process for the new school year whether their class takes place in person or online to ease any further worries.
Be Supportive, But Set Boundaries
Supporting your kids is a natural part of being a parent, but without setting boundaries, it's easy to get overwhelmed and burned out, especially when the school year is in full swing.
It's easy to get wrapped up in the day-to-day hustle and bustle, but finding ways to find calm throughout your day can help to keep your kids organized and at ease as well.
Find ways to practice regular self-care. Whether it's dedicating one hour a day to your favorite hobby, quiet time away from the kids, or just time to get caught up on chores without distractions. Make time for yourself. If you feel lost on where to start, check out resources like Parent Self Care to get some helpful ideas of how to unwind.
Or, try mindful practices like yoga, meditation, or exercise as a way to relieve stress and clear your mind. Consider adding these to your daily routine to balance your mental health with your physical health.
Be sure to communicate your need for space with your family. That way they can give you the support you need in return for the support you give them.
Setting boundaries takes effort. Hold yourself accountable and prioritize yourself so you can be your best when you return to work and family responsibilities.
Back-to-school season is a stressful time for parents and kids alike. We hope these tips will help your family take on this time with less worry and more excitement!
Quick Video Tips for Teachers Welcoming Kids Back to School
Whether it's a child's first day of kindergarten, grade one, or students returning for any grade, every new school year is a new beginning with many adjustments to be made. There are new faces, new teachers and new classrooms that present exciting, yet challenging situations.
Hopefully, parents have done everything they can think of to make returning to school a positive experience. So, here is a quick little video for teachers on one important way to make everyone in their classroom feel valued and part of the classroom. How to get their names right!
Discover more back to school tips for teachers.
Read why some kids love school!