The Back to School List just for Kids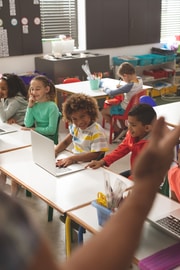 Everywhere you look someone is telling you to get ready to go back to school. Stores are urging you to come get your supplies and new clothes. Parents are reminding you to get your bus passes and clean out your closet. Websites post lists for you to read through and check off before the first day of class.
This list is different.
This is the back to school list just for kids.
1) Did you do everything that you wanted to do this summer?
Think back to before summer break. Is there an activity you planned on doing? Is there a hobby you wanted to spend more time on? How about a friend you wanted to see during the holidays? Did you hope to arrange a treasure hunt or put new wheels on your skateboard?
Think hard—then act. There is still time to take care of that one great idea.
2) You've grown up a little over the summer—so should your personal space.
Take a minute and think about your room, your desk and even the posters on your wall. Go through your clothes and try them on. Jeans and shirts that don't fit should go in a pile to give to your Mom or Dad. Do the same with your action figures, your posters, the cool stuff you have on your desk.
Looking through your personal space and seeing what "doesn't fit anymore" will show you how much a life can change in a couple short months.
3) Now, do some house cleaning on your social media.
Many people–and that includes kids–are going through their settings. They are cutting out "friends" from the people they really know from actual flesh-and-blood life. Many recommend taking a good, long look at your social media privacy settings.
Make sure that when you post a personal detail, only real human beings that you know can see what you've written. A good rule of thumb is: Would you feel okay hanging alone in your room with this person? If the answer is, "Geez, I dunno," then think hard about giving that person a look inside your life.
4) Relax.
School is a phase of life that takes you into the future. You'll be going to classes that don't seem to make sense and doing homework that doesn't seem to have any purpose.
For some of you, people might be asking you about college or university and great future plans. The best thing for you to do before you walk into that big crowded building is to just relax. Do your best and the rest will come.
---
Parents learn how to prepare kids for their first day or school