Top 14 Benefits of Learning Music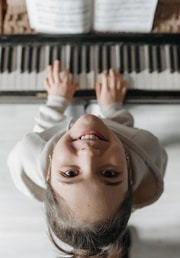 Why is music important? Music is amongst the few universal and eternal pleasures of life. Playing a musical instrument or singing is a delightful, meditative, and rejuvenating experience. Apart from the sheer joy of it, there is a great importance of music training in other aspects of life.
Here are the top 13 significant benefits of learning music, no matter your age or level of musical  proficiency.z
1. Improves Intellect & Memory Power
You need to recognize different lyrics, tones, and sounds. Thus, in the process of learning music, you enhance your reasoning skills, phonetics, and knowledge of the language. Learning all this new information and remembering them naturally sharpens your memory and intellect.
2. Enhances Problem-solving & Mathematics
There is an intelligence called spatial intelligence, which is responsible for the recognition and arrangement of stuff. During music training, you need to arrange various elements together. The tune, lyrics, and musical notes all need to align with each other. You can choose to learn music to sharpen your math skills.
3. Makes You Result-oriented
When you sign up for the music training, you commit yourself to focus, organizing, and memorizing the technicalities to perfection. The cluster of these qualities and some other qualities are known as executive functions. It becomes your second nature by the end of your training.
4. Increases Confidence & Self-worth
Both learning and performing music are meditative and enlightening experiences. You get the opportunity to express yourself in front of other people. It increases your confidence. Being proficient in music gives you a feeling of self-worth. You value yourself more as a learned musician who is different from the crowd.
5. Boosts Emotional Intelligence
Performing arts like music gives an opportunity to see life from other people's points of view. When you learn music, you become more empathetic, understanding, and sensitive towards others.
6. Develops Creativity & Imagination Power
Every art form compels you to create with your imagination. The same is the case with music. You develop your ability to think beyond the realities in front of you. Your problem-solving techniques become more innovative and experimental.
7. The Ability to Write Songs
Journaling, writing in a diary, or writing poetry is a away many people work out their thoughts and express themselves.  Learning music with the added ability to play an instrument opens up a world of expression through song writing.  It may become a lifelong passion or even lead to career as a performer.
8. Teaches the Value of Discipline
Increased discipline & persistence is one of the major benefits of music learning, especially for kids. They become more aware of the importance of attending lessons and practicing. It takes time to master the art of music. When you patiently wait to grasp the correct note and tune, it leads to increase in your persistence.
9. Helps in Achieving Academic Success
Contrary to the popular belief that learning music will distract students from their academics, various studies proved that it improves their test marks. We have already alluded to the close correlation between music and mathematics.   It also has many other benefits for students that help them improve in school and colleges. It will encourage more parents to let their kids pursue music.
10. Trains You in Team Work
Musicians and singers need to sync in to create a performance. When you are training for music, you develop the skills of coordination, communication, and comprehension. It is perfect for kids if they get this kind of exposure from an early age.
11. Enhances Social Skills
The importance of learning music is not limited to the art form only. It teaches you social skills. In a music class, you need to interact with other students. Especially kids play and learn in the same group. Their improved social skills enable them to thrive in social situations instead of getting social anxiety.
12. Expands Your Knowledge about Different Cultures
Music crosses the boundaries of cities, countries, continents, and cultures. A kid or adult interested in music becomes aware of different cultural norms around the globe. They get to know everything, from the Bagpipes of Scotland to the Tabla of India.
13. Sharpens Listening Skills
One of the underrated benefits of music training is it improves your auditory attention. You can differentiate amongst various sounds. And can choose to concentrate on whatever sound is essential for you to listen to.
14. Provides Stress Relief
Many studies proved the relaxing and soothing effect of music. Learning music can give you a nice getaway from other stressful parts of your daily life. It can be your daily vacation for a few hours away from your studies or professional engagements.
Author Bio
Reema Krishnan is a content creator at Acharyanet platform for Carnatic music learners where they can learn music from gurus through 400+ video lessons. Being a music enthusiast and a history buff herself, she is able to provide value for her readers and her content is well-received by musicians, music lovers, and music learners of all ages and at all stages. She loves to volunteer with music therapy groups and bakes up a storm in her free time.