Comprehension Reading Strategies for Elementary Homeschoolers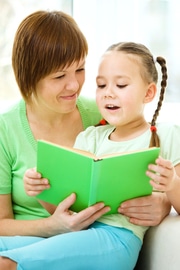 Comprehension strategies for reading strengthen the learner's ability to organize and comprehend text to achieve the real purpose of reading!  The ability to comprehend written content is the key to academic success!  Because it shapes up our skill to understand and helps us to connect with the actual thought conveyed through the written text.
Reading with comprehension is also one of the most desirable skills with a lifetime utility. Hence, our formal education processes rightly aims at nurturing it right in students right since the beginning of their elementary school years.
Similarly, homeschooling parents also acknowledge the importance of these fundamental literacy skills and their long-term advantages for the kids. But several parents/guardians struggle with the strategies to strengthen these extremely important abilities in their loved ones.
If you are also a homeschooling parent or have shifted to homeschooling due to the pandemic, this information will help you to 'NAIL IT' easily.
So, let's pin down some comprehension strategies for reading for elementary stage homeschoolers
1. Allow the learner to create meaningful connections-
Reading without understanding is merely the identification of some written symbols. Hence, our aim should be to strengthen the overall reading comprehension of our young learners. The first and foremost thing that helps in developing comprehension skills in reading is the construction of meaning.  This will help students become engage students as they learn to read.
To do this, try to link the content/text with the child's previous knowledge. And create some meaningful connections to make it more relevant for him/her.
Always go by the child's pace and do not rush with things. In most cases, kids grasp better when the text is broken down into smaller and easily understandable parts. It is also suggested to focus only on a single part of this information. Because it helps to create clarity through the activities to improve reading comprehension.
2. FUN ELEMENT and understanding check-
Once you complete one part and decide to move ahead, take a few minutes and check the learner's understanding of the content. Never miss out on summarizing it and add rewards if need be!
Homeschoolers love interactive reading activities. So make these fun by using some simple techniques. For example- You can modulate your voices differently for different characters.
And even add some crazy sound effects!
All this will make it magical for the kid. And he/she will be effortlessly engaged.
At this point, I must mention the greatest advantage of homeschooling- THE FREEDOM TO SELECT THE RIGHT PACE!
So take that extra time and pain and build a sound understanding. And let the child grasp each and every bit perfectly.
During your understanding check, do not expect the child to fully reflect his/her understanding after fun reading activities. Instead, take an idea of the understanding level and figure out learning gaps (if any).
3. Use age-appropriate tools
Fortunately, this INFORMATION AGE offers us some great tools/aids to instill a LOVE FOR READING in our loved ones. And, it is now easier to make use of the most trusted comprehension strategies for reading for homeschoolers.
You can find some downloadable applications and use them with their online and offline features.
I can give you some quick examples:
Read Along by Google has an inbuilt reward, assistance, and tracking mechanism- One of the top picks.
English Comprehension Reading- Promises longer retention.
Sight words- Ideal to instill a love for reading.
4. Try the STORY GRAMMAR approach
Researches have shown that there is a close relationship between the awareness of text structures and reading comprehension. Hence, we must focus on making the text structure more understandable for the child to improve his/her comprehension skills in reading. The simplest way to accomplish this goal is to incorporate features of the story grammar approach for homeschoolers. Because it strengthens their functional literacy skills and also fosters critical thinking in them.
While homeschooling a child, parent/guardians can follow these simple steps and make use of this tried and tested approach:
Present a description of the story parts such as characters, setting, and if possible add some examples to familiarize the kid with these.
Create a scenario through some key information. And allow the child to arrange some unorganized parts of the story on his own.
Explain the core story structure and summarize before ending.
Again use some positive reinforcement techniques to maximize the impact of these activities to improve reading comprehension.

Do not forget to APPRECIATE & MOTIVATE THE CHILD ENOUGH!
5. Choose variations, genres, and types of books as per the learner's taste
Another aspect that has a make-or-break effect in materializing our comprehension strategies for reading for homeschoolers is the selection of content. It is true that stories, books, articles, comics can all trigger a child's imagination and transport him/her in an imaginative world. But we need to be careful about the information that we supply to these impressionable young minds.
We must always keep these choices free from our biases/opinions and even our personal interests. And also make sure that the selected material does not support any gender, occupation, and other stereotypes. Do expose your child to a wide variety of content. But make sure that it goes well with his/her linking.
6. Make use of supportive technology
Make podcasts, audiobooks, and online resources a routine part of your interactive reading activities. And it is now easy to access a wide variety of supplementary content, like grade-wise EBooks, story-based videos, short movies, and animated stuff over the internet.
Even the international online school nurtures fundamental literacy skills in students through researched online pedagogies and highly engaging online content. And their blend of outstanding strategies is a guiding light for all homeschooling parents/guardians.
Top accredited online schools make use of strategies such as reading goals, highlighting key points, visualizing, and random questioning. And these are all highly effective and fruitful for home-based learning.
Final Thoughts
By now you must have shortlisted some great comprehension strategies for reading.
So, go ahead and apply these to empower your homeschoolers to be HIGHLY VOCAL AND EXPRESSIVE INDIVIDUALS
ALL SET TO MAKE IT BIG IN THE YEARS TO COME!
Thanks for Reading!