5 Creative Ways to Save For Your Children's Future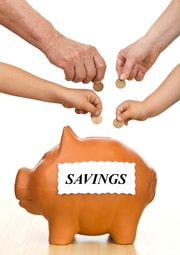 Raising children can be expensive, and the costs add up even more as they grow older. Whether it be the rising cost of college, funding extracurricular activities, or paying for sentimental moments like prom, class trips, and more, it can be intimidating to think about paying for their future endeavors.
However, no matter what your financial situation is, it's possible to strategically save up and plan ahead for your children. Here are five creative ways to start.
1. Use a 529 College Savings Plan
If your biggest concern about your children's future is paying for college, you should consider opening up a 529 College Savings Plan. This is a smart decision to save for the cost of college as this account is designed specifically for higher education.
This plan is beneficial as it usually has low fees, and any gains and withdrawals are exempt from federal income tax as long as they're spent on qualified educational expenses. Friends and family can also contribute to these accounts, which can help relieve pressure to save for your children's college by yourself. Instead of having people buy your children toys or other items they might grow out of, it might be a better use of their money to contribute to this account for birthdays or holidays.
Another great feature of a 529 plan is that you can easily change the account's beneficiaries, which is especially helpful if you have multiple children. This way, in case one child gets a full ride to college or decides not to attend college at all, you can dedicate the money toward someone else. If you're unsure your children want to go to college, some of these accounts also allow you to use this money for private K-12 schools as well. Keep in mind that 529 plans function on a state level rather than a federal level, so some benefits may vary based on what state's plan you choose.
2. Tap Into Your Home Equity
If you're a homeowner, you can take advantage of your home equity to save for your children's future. This is a resource some homeowners might not realize they can financially benefit from, and it can be a budget-friendly way to fund different goals or projects.
With this type of loan, you're able to borrow against how much equity you have in your home, so it's important to make sure you've paid off a decent amount on your house before you pursue this option. This loan is ideal for saving and paying for your children's future as there are no restrictions on what you can use the money for—you can save for your children's college tuition, save for a pricey class trip, or even support a new hobby they want to take up.
Additionally, you'll receive the payment in one lump sum with fixed interest rates, so you don't have to wait to start saving and planning ahead. Just make sure to adjust your budget to account for monthly payments as your home acts as collateral for this loan.
3. Start a Side Hustle
If your current budget doesn't give you much room to save money for your children, starting a side hustle can help you earn some passive income.
Think about any hobbies you already enjoy doing and try to monetize them so your side hustle doesn't feel like a burden. You could sell homemade art, crafts, or offer a service like home cleaning or dog walking. The options are endless, so choose something you're passionate about.
Another popular side hustle idea is purchasing a rental property for passive income. This can give you a significant amount of money to save for your children's future, and after your kids grow up, you can use the profit for other expenses or goals. If you really want to plan ahead, you can buy a home where your child is attending college and use this property as their college housing. The rent from their friends and roommates can cover your mortgage payment, and you can save money from campus housing.
Depending on your side hustle, you can also get your children involved to give them the opportunity to contribute to their future expenses. This can serve as a fun, bonding experience and can be a useful opportunity to teach them more about money and running a business.
4. Open a Children's Savings Account
Just because you're the parent doesn't mean you have to do all of the heavy lifting when it comes to saving. Encourage your children to also contribute money toward their futures by starting a children's savings account.
Parents co-own the account, so this is a safe and effective way to promote financial wellness among your children early on and can help teach them to save their money rather than spend it. For instance, if your children earn money from a lemonade stand or other activities, motivate them to allot some of that money for their savings. You can also put a portion of their allowance or any monetary gifts in this account to help them save up quickly.
5. Sell Unused Items
Children grow up faster than you realize, which also means they grow out of a lot of things you buy them. As their hobbies, interests, and needs change, try to capitalize on unused items rather than letting them go to waste.
Instead of donating or throwing these items away, try to sell them to make some extra money you can reinvest into your children's future. For instance, if your kids have played baseball for years and now want to try lacrosse, sell their old equipment and use that money to buy the new materials they'll need.
Reselling items has become popular and there are several online apps and websites created specifically for this. You might even find some gently used items you can buy for your kids at a discounted price. If online platforms aren't for you, you can also try selling directly to consignment stores or even holding a garage sale.  Sell used college books that may be in the house from older family members that have finished college.
Saving for your children's future can seem daunting, but there are effective ways to plan ahead and afford their dreams. Seek creative ways to invest and save your money, and you'll be financially prepared to face future expenses.