Development of Creative Abilities in Primary Preschool Aged Children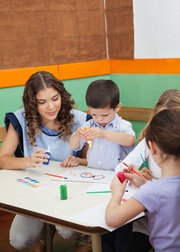 Why does a child need to be creative, conditions for discovering creative potential, how to introduce a child to creativity, identifying abilities by age, effective games and ideas for discovering creative abilities.  According to psychologists, creativity is useful at any age.
That being said, it is easier to develop the creative abilities of a child than in adulthood. So, let's explore the features of the development of creative abilities in children of primary preschool age.
Why is creativity needed at all?
Creativity and creativity are synonymous. According to psychologists, there are several reasons to include creativity in a child's life and develop this skill. It:
Benefits for the psyche – such therapy calms, helps to get rid of stress, negative emotions, aggression.
Help with learning – therapy unloads the brain, develops empathy. Having calmed down, a person can find a way out of a difficult situation, make the right decision.
Way of self-expression. With the help of creativity, the world is known, and a person knows himself. In this area, you can experiment without fear that someone will misunderstand you or judge you.
Conditions for the development of creative abilities
In order for creative skills to develop successfully, several conditions must be met:
Classes in the physical development of the child in a timely manner and at the right age.
Inclusion of creative activities at a younger age.
Creating an environment conducive to the development of creative abilities – an emotionally calm microclimate in the family and the team, creating an atmosphere for creative search.
Support from parents.
Classes are only in the form of a game. Children's psyche is arranged in such a way that at a younger age information is perceived and remembered only through the game. There is no point in having boring classes.
Continuous development – the use of various methods. Every achievement should be praised.
Classes should be carried out regularly and systematically. Even if the child is sick and misses kindergarten or a circle, you need to continue to study at home.
Help from adults, timely and dosed.
Patience for the creative "torments" of the child – if the baby is sitting on a project for a long time, there is no need to push him.
Stimulating the child, with possible failures, the baby does not need to be scolded, but you need to support and praise.
Young children are willingly involved in the creative process because of their curiosity, desire to know the world and interest in themselves.
How to introduce a child to creativity
Here are some general tips that parents can heed if they want to develop their child's creativity:
It is important to find a hobby that interests you. There are many facets in creativity that can be successfully developed – modeling, collages, drawing, jewelry, needlework, etc. The task of parents is to direct creativity in the right direction.
Creativity should be gradually introduced into the life of the child. Perhaps the child will like some direction, and he will want to repeat something. Therefore, it is worth visiting exhibitions, master classes in various areas, museums, expositions and more.
You can not criticize the work of the child. If something doesn't work out for the baby, you don't need to "cut his wings". If he wants to create, let him create.
Every parent should understand that there are no incapable and uncreative children. Every child has some talent, you need to find and develop it. The wrong approach on the part of parents, school, society can "kill" a child's creativity and desire to create.
Ideas for developing creativity
Creative skills and creativity need to be developed. Only a small percentage of children from a young age have the ability to be creative and creative. Therefore, the task of parents is to independently deal with the child before sending him to some circles. A few ideas:
Drawing. From a young age, you can give children pencils, paints, paper, craft glitter. Children are very easily drawn into drawing, because the result they get surprises them. From the age of 3-4, drawing becomes meaningful, the child can already express his thoughts through drawing.
Sculpting, in addition to creative skills and creativity, also develops fine motor skills of the hands, and also trains memory and visual perception. The result obtained in the craft encourages children to experiment.
Application. The essence of the lesson is to cut out the figures and stick them on paper. Suitable for developing a sense of color, shape, rhythm, symmetry. Along with this, children learn the planned organization of work.
Unconventional drawing. Older children are no longer interested in drawing just with pencils and paints. They choose non-traditional drawing methods – paraffin candles, cotton buds, combs, toothbrushes. Such activities contribute to the removal of children's fears, develop self-confidence, and help to achieve inner harmony.
Music, reading and literary creativity. These disciplines overlap. The older the child, the more serious musical and literary works he should study. The singing is also very interesting.
Theatrical activity. Children are very interested in transforming into various characters. But the older the child gets, the more difficult it is for him. Therefore, the optimal age for visiting the theater circle is 3-4 years. Then it is more difficult to liberate the child.
Creative skills can be developed at any age. The main thing is to choose the right classes and exercises.