Do I Need Pet Insurance to Protect My Pet?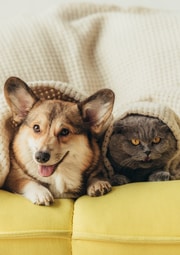 We all want to give our pets the best chance for a long, lovely life. Many pet owners have deciding that one of the best ways to do this is to protecting them with pet insurance. The first step in your journey towards exploring options for pet insurance plans is to crystal clear on your pet's medical history.
By looking at your pet's age, the breed of dog or cat that they are, and what illnesses they may be prone to becoming a victim to over the course of time, you can prioritize the elements of their health that are most vital. But everything comes with a cost, and pet insurance is no different.
Pet Insurance Affordability
What is the most that you can afford to pay in order to make your pet's insurance a reality? Compile a list of what types of accidents and illnesses that need to be covered and the percentage of those particular costs that you are capable of paying for.
While you are obtaining quotes from pet insurance providers, understand that many of their prices will fluctuate due to factors such as whether you and your pet live in congested urban landscapes or in rural country regions.
Best Pet Insurance Options
Pet insurance plans have multiple variables crammed into the fine print that can often appear frustratingly similar to what each pet insurance company is offering the exact same thing as the one you looked into prior to it. But each company usually has its own variations of three core offerings: benefits, coverage, and premiums.
Familiarize yourself with the policies that you are interested in and make sure that they will reimburse you for the actual type of coverage that your pet will be in need of, such as accidents, illnesses, exam fees, and medications. When you are filing a claim, customer service becomes increasingly important. Be sure to ask a company questions that you have about their offerings.
Pet insurance rankings in 2022 have led the economic news organization Money to recognize the pet insurance provider Pumpkin as the "Best for Puppies and Kittens," offering preventative care packs, competitive deductible amounts of $100, $250, and $500, providing a 90% reimbursement option that is among the highest of its competition, annual limits of $3000-$7000, and multi-pet discounts available to its customers.
But before considering which policy plan has the best potential for a long-lasting series of positive outcomes for your pet, here are some insurance terms every pet owner should get familiar with in order to pick the best pet insurance policy results in 2022.
Policy
This refers to the entirety of your pet health insurance plan that includes items such as coverage, premiums, deductibles, benefits, and coinsurance.
Coverage
This pertains to exactly what the policy will reimburse you for, which is mainly unexpected vet fees and related expenses. Accident and illness coverage tends to be the most common health insurance. Coverage can be used normally for things like labs, treatments, medications, and fees.
Perfect coverage would include any treatment and condition that may arise. Specialty coverage can even include hiring a pet sitter if you as the policyholder are one day hospitalized; advertising for (and paying) a lost-pet reward; a pet's acupuncture and hydrotherapy; or emergency vet treatment while traveling overseas.
Accident and illness coverage
This is a comprehensive form of coverage for vet treatments, medications, diagnostic testing, and surgeries for brand new injuries, sicknesses, or diseases your pet is diagnosed with while insured.
Accident-only coverage
This form of coverage only applies to injuries from accidents, like broken bones.
Benefits
Whenever we start talking about benefits, essentially, we're discussing the dollar amount your pet insurance provider will pay you for a covered incident that happened to your cat or dog during a given time period, compared with how much you have paid for insurance coverage.
Benefits are a means of determining the pet insurances that yield the best results during your search because the good benefits pay as much as possible for a covered incident. Often you may hear the term "benefits" used interchangeably with "coverage."
Premiums
This is the dollar amount that you pay each month for the coverage and benefits that you receive. The short answer is the better the coverage and benefits that you have acquired, the higher the premium price will be.
Deductible
This refers to the amount you're responsible for paying before a claim that you file can be reimbursed by the insurance company. Depending on the plan that you have selected, the deductible starts over on an annual basis or applies to individual conditions over the life of your cat or dog.
Coinsurance
This is the percentage of your bill that you must pay that excludes the deductible. Let's say, for instance, if your policy coinsurance is 10%, that means the insurance company will reimburse your vet expenses up to 90%, minus the deductible and any other excluded expenses.
Waiting period
This refers to the medical-exclusion time period between the start of the policy, and it can last anywhere from two days to 30 days for accidents or illnesses. Make sure that you are aware that you will only be reimbursed for medical expenses that occur after the waiting period. Any conditions diagnosed during the course of the waiting period will be excluded from coverage eligibility.
Policy value
The value of a pet insurance policy is typically the annual limits of how much money can be spent on your pet for medical procedures that year, the deductible amounts that need to be paid in order to redeem the money the provider will reimburse you with, and the percentage of the services being billed that can be reimbursed.
Covered costs
These are the billed services that can be covered by pet insurance and are not restricted. Typically there are some illnesses or treatments that have limited coverage, but exam fees for bringing in your injured animal to the vet are not covered. But luckily, exam fees are fairly inexpensive in comparison to other treatments.
Pets are part of the fabric of our lives.  The a true companions that offer unconditional love. Their presence even known to provide mental health benefits through animal therapy. Therefore, it's difficult to put a price tag on the value of our relationship to our pets.  With this article at least, you now have the vocabulary to properly pick the pet insurances that yield the most optimal results for your loving dog or cat in 2022.
Pet Ownership and Child Development
Owning and caring for a pet is a big responsibility.  As we have mentioned there are many benefits that make the cost worthwhile.  When kids are involved, there are great life skills to be learned.  It's also worth exploring the role of pets in childhood development, including how it contributes to developing neurodiverse children.  Is a pet right for your family?  Make sure to do your research and seek out all the advice available on getting a family pet.