How to Prepare Your Homeschooled Children for College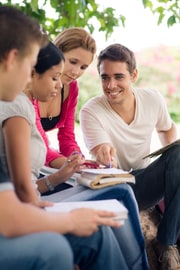 After years of dedication and hard work, your teen has finally completed their homeschooling. Whether it's from graduating from a certified K-12 school or you home-schooled them yourself, your teen is now ready to start planning for college. College is the true beginning to your child's life, so you want to ensure everything goes swimmingly.
Here's how you can prepare your home-schooled child for college.
Financial Prep
The first step in planning out your child's college education is to figure out the best way to pay for it. How much you have to pay depends on two factors; the college itself and what degree your teen wants to pursue. While college is going to be an investment no matter what, some degrees are more expensive than others. Medical, law, biochemistry and technology are just to name a few.
Once your teen has settled on their educational path, you can then take the next step. If you find yourself in need of financial assistance, consider applying for a student loan from a private lender. A private lender can help your child finance their education by offering them reduced interest rates. If you want your child to solely focus on their education, you can consider taking out a private parent loan instead.
Choosing the Right College
Your teen is going to have their first taste of freedom by picking which college they want to attend. However, this can take a while because not every college may suit your child's needs or standards. Some colleges may not even offer certain degrees. Sit down with your teen and help them research local colleges. Look at the reviews left to get an idea of their reputation.
Bear in mind that this is their choice, so they should always have the final say. Don't set expectations or give them options only you would choose. Instead, give them sound advice by relaying your own experiences. Make it an unforgettable experience for the both of you.
Teach Them Valuable Life Skills
Whether they're transitioning into a public college or decided to continue studying at home, you need to teach your child some new skills. Not only will they help them with their college work, these skills are essential for being a successful adult. Below is a list of the life skills you need to help your teen learn:
Effective communication
Practicing self-control
Learning to think critically
The importance of time management
Embracing and overcoming challenges
Using failure as a learning tool
Appropriately asserting themselves in specific situations
Showing empathy to others
Learning these kinds of skills is no different than taking on a habit. It'll take a little practice and diligence, but your teen should pick up on these skills relatively quickly.
Prepare Their Transcripts
To maximize their chances of being accepted into their chosen college, make sure to have copies of their high school transcripts. These documents are what showcase your child's grades in school, classes they've taken and extracurriculars they've been a part of. It also shows their GPA, which is actually a requirement for some colleges.
Independence and Responsibility
When you home-school your kids, you have a certain degree of control over their daily lives, this will change once they go off to college. Everything from internet accountability to folding their own laundry will now rest on their shoulders. It is best to baby step them towards these freedoms but loosening the reigns little by little as the even gets closer. This is not the time to practice the rip off the band aid strategy.
Give Them Some Pre-College Work
Perhaps the best way to truly get your teen into the swing of things, supply them with some college prep work. This is certainly ideal if your child is hoping to get involved with AP classes throughout their major. AP stands for advanced preparation and is harder than the standard version of a course.
But you don't have to worry about paying for an external program. Your teen can participate in college prep work for free. There are plenty of online courses and platforms, like Khan Academy and Coursera, for your child to partake in until it's time for the real deal. To give you both an example of this type of work, it involves lessons and tests for subjects, like history, geography and even calculus.