School Counselors Using Digital Tech for Safer Schools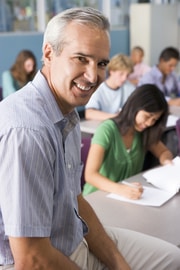 For decades, school administrators have worked to make school buildings safer. They have done so by locking doors, adding security systems and cameras, hiring law enforcement staff, and installing metal detectors.  Over 90% of schools in the U.S. have security cameras to help staff monitor the school and surrounding area more closely.
In 2016 alone, schools spent $2.7 billion on security systems. A year later, the amount spent almost doubled.
Besides video surveillance, almost 80% of schools track their visitors by asking them to sign into the front desk.
Sure, it's essential to keep all the outside doors of a school locked and take note of who is in your building, but not all threats are face to face.  We live in a digital world where student data privacy in the classroom is of utmost importance.  And, a lot of your preventative maintenance needs to take place in that same cyber environment. 
So, when threats are made, schools need to right tools to spread the word to teachers and staff quickly. Here are some ideas you may want to try to keep your school safe.
Social Net Watcher
School shooters tend to be narcissists. They often use social media, especially Instagram, to proclaim their manifestos.
One start-up out of Indiana, Social Net Watcher, watches students' social media accounts for specific phrases that may indicate warnings of violence. They can also be programmed to alert school officials to acts of cyberbullying.
TextMagic
In an emergency, fast communication is essential. TextMagic allows schools to send immediate texts to the staff, students, or parents at the touch of a button.
Texts are the most effective form of communication in an emergency. Teachers may not have access to their computers while they are barricaded in their classrooms.
TextMagic can also be used to alert parents if their children are not in attendance. Parents who may be concerned about the mental health of their children can be warned immediately that their child is not where he is supposed to be. 
Visitor Management System
While most schools have visitors sign in at the reception desk, some schools are taking this precaution to the next level.
Visitors at some schools must present their state or federal ID to the school. These IDs are checked against a national database of registered sex offenders.
Alertus Desktop
Although text messaging is the most effective form of communication during an emergency, at times, a back-up plan is needed. Alertus Desktop can send an immediate alert to every computer screen on campus. This system is particularly helpful for buildings that have notoriously bad cell coverage.
Take a look at what Gordon College learned by implementing Alertus Desktop.  The school felt that its checklist for notifications in emergency systems was too long.  And, It wanted one unified system for keeping people informed.  
The college reports that its decision to streamline communications was extremely beneficial.  "Being able to setup pre-scripted alerts to fire off with one button press or one-click during a crisis can help save lives during an emergency."
Facial Recognition Software
Although there may be privacy concerns from using biometric data on a school campus, some districts are willing to overlook this opinion to keep their students safe. Programs such as RealNetworks is 98% accurate, and this software will alert school officials if someone of concern is on campus.
GPS Systems
Schools not only need to keep students safe on campus, but they also need to protect their students on buses as well. GPS systems are so sophisticated now that the district will be notified if a driver is reckless.
This software has the added benefit of protecting the school from parent complaints. If parents complain that the bus did not pick up their children that morning, the district can check the GPS to see whether or not the driver really missed the stop.
Edgewood Independent School District in Texas utilized this technology on its fleet of school buses. The system proved beneficial when the local sheriff was able to send the closest officer immediately to a driver who needed assistance.
Safety and Security Film
The doors of a school may be locked, but that doesn't mean that school shooters can't break into a building through a window. An American company now has made a thin film that can be placed over the windows of a school building to keep them from breaking.
Fortify the windows of your school with this 3M product. This product will enable responders to have more time to arrive in the event of an emergency.
Conclusion
Schools have the moral and legal responsibility to keep their students safe.
Even though some schools have metal detectors at the door, 7% of high schoolers reported being hurt or threatened with a weapon on school property within the last year.
Even though safety measures have been utilized, nearly 6% of high schoolers have reported that they stayed home from school because they did not feel safe.
What that means to you as an administrator at a school is you need to maximize your resources.  Explore these different options. Then, start to implement  some of these digital technologies and other strategies to keep your school safe
While safety is key, schools should also explore ways to also enhance the learning experience using technology and promote safer internet for schools.