How to Have the Happiest Holiday Break!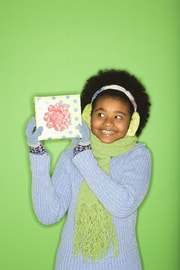 Winter break is full of fun, food, friends and folks. AND of course – brightly wrapped gifts! It can also feel awkward. You could be spending time with people you don't know very well. To make the time even worse, YOUR PARENTS WILL TELL YOU TO PUT YOUR SMARTPHONES AWAY! HORROR!
How do you spend time with these people — especially when you haven't even seen their social media profile? What do you talk about? What do you do?
Relax. Here are some helpful ideas to make awkward real-life moments easier.
Ask your guests the same questions that you answer on social media. Remember when you made your social media page? You posted details like your favorite singer, your favorite movie, what books and sports you like. Talk to your guests about these topics. You will probably find out that you have a lot in common.
Being stuck in a house with your phones turned off can feel weird. Before your guests arrive, think of three things you can do with your company outside of the house. Skating, snow ball fights, walking to a near-by attraction, even showing your company your school.  There are plenty of things to do in or outside the house.
Don't worry about sounding lame. Your guests will probably feel relieved to be away from the adults for a short time. If you are going to be in a strange town or location, take time to look up sights in the area. Then, if time together starts to feel weird, you can come to the rescue.
Learn some magic tricks. With a plain deck of cards you can have people scratching their heads and in awe. You never know—you might have real talent for magic. Even if you don't, you'll have fun with the challenge.
Even if you aren't allowed to use your computer or phone, you can still play games. You probably have a stack of board games hidden somewhere in a closet. Dig them out and learn the rules. Or get that deck of cards you used for magic tricks.
Before you hand your phone over to your parents, look up games you can easily teach your guests. There is something fun for every age and skill level.
Remember that no one is perfect. Everyone feels awkward from time to time. When you are together with relatives you don't know very well, they are probably feeling like you are.
Time without your phone will feel funny. Just be yourself and let yourself have fun in the real world.