How To Keep Your Child Safe When Using Apple Products
Lots of people use Apple products. These services are in high demand, from smartphones to tablets or even software like iTunes. However, not everybody is naturally equipped to use these tools responsibly. Children fall into this category, especially if they don't have access to proper guidance.
Different digital products have their own safety measures and features to utilise. Apple products are no exception. Without further adieu, here's how to keep your child safe when they're using Apple products.
Remove Devices From Apple ID When Required
The Apple ID trusted device list can be convenient. It allows multiple devices to be signed into the same account and share information to things like accounts and cards stored in the Apple Wallet
However, should a device go missing, it can inevitably lead to complications if users don't act fast. That's why it's important to instruct your child on how to remove devices from Apple ID in an emergency. After that, they can ensure that their personal data is secured. It's privacy protection.
Learn more here about how to remove a device from an Apple ID if you're interested. There are step-by-step instructions for every Apple device, as there can be nuances to note between them. Doing all of this through iCloud software is also detailed. Don't just review the helpful information yourself, either – sit with your child and read it together. They'll be able to look out for themselves, then, as well.
Your child may even want to sell their phone if they recently received an upgrade. That's fine, but when they do that, they mustn't forget to remove their device from their Apple ID. It's key information!
Utilise the Parental Controls
Most types of devices have parental controls. Exercising those in Apple products is a go-to solution for protecting your child.
You can toggle many settings with parental controls on Apple devices, including:
Preventing iTunes and app store purchases, as well as access to anything with content ratings.
Allowing or disallowing built-in features and apps, as well as any changes to privacy settings.
Setting privacy restrictions.
Restricting game centre.
Filtering web and Siri search content, adding websites to approved or block lists.
It's also a good idea to check in with parental controls for any updates. After all, platforms like Instagram can sometimes introduce new measures to give mums and dads more insights into their child's online activities. Staying in the know about brand-new features may help you be more diligent in your efforts here, as Apple can always add new measures at any time.
Enrol in a Family Sharing Plan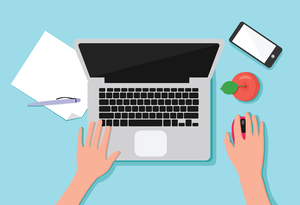 Apple products have a family-sharing plan. It's well worth exploring, as it has many advantages that can help you keep your child safe.
For example, an iCloud storage plan can be shared. By using the same digital servers, you'll be able to see what types of content your child is looking at and downloading for later browsing. Photo albums and iTunes, App Store, and Apple Books purchases can also be shared. Up to five family members can utilise these services, so if you have multiple kids, it's a great way to round up their activity in one concentrated area.
Family sharing can also help you locate your child's missing or stolen device. So, were that unfortunate circumstance to happen, you can secure the device or at least have closure about its permanent loss and destruction. Not knowing can be even worse than knowing it's gone, and cause high levels of stress and anxiety, so having a way to track it down is vital.
Continue the Dialogue
Your child may not be initially warm to all the measures outlined so far. That's to be expected.
That said, a constant dialogue might bring them around. Parental controls might seem invasive to a point, but once you explain what you're doing and why calmly and rationally, your child should at least understand your position. You will undoubtedly echo sentiments expressed at school and by other responsible adults in their lives, too.
Should arguments transpire, try to leave go-to parenting lines like 'because I said so' out of the conversation. Don't raise your voice. These solutions are not about exercising your authority or a power trip. They're about keeping your child safe and employing measures that, hopefully, will influence your child to perceive Apple products, and their digital activity in general, in a more safety-oriented fashion. Adopt a caring and patient angle, and your kids may be more willing to hear what you have to say.
Try to answer questions lovingly or research them together if your child asks them. Their curiosity isn't to be shunned, even if they have something of an attitude when posing challenging questions. Apple products are safe to use so long as users utilise them responsibly, and that's the overall message you should try to convey.