How to Start a Career in Cyber Security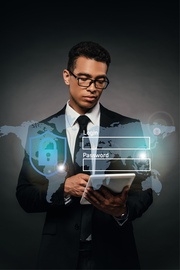 Increased cyber attacks are a direct outcome of increased digitization. What is the solution? The answer is more cyber security experts. If you're considering a career in cyber security, let us introduce you to the various opportunities available. One of the sectors with the strongest growth rates, this one offers a variety of rewarding occupations.
In this article we will strive equip you with the knowledge of how to begin a successful cybersecurity career.
What is Cybersecurity?
Cybersecurity entails defending digital assets from harmful attackers and their owners. The phrase "digital asset" refers to anything that exists in digital form and has considerable monetary value. Personal information, documentation, websites, servers, and networks are all considered digital assets.
To be a superb cybersecurity expert, you require technical skills like risk assessment, intrusion detection, programming language fluency, and familiarity with Linux OS.
Cyber Security Career:  Prerequisites
The number of knowledgeable cybersecurity experts who can handle common cybersecurity concerns is noticeably lacking. Consequently, a career in cybersecurity is both challenging and rewarding. Many businesses are looking for qualified cybersecurity specialists. These include GE, Siemens, Microsoft, Google, and Philips.
To pursue a profession in cybersecurity, a Bachelor's degree in computer science, electrical engineering, cybersecurity, or a closely related field, with two to three years of experience as an incident analyst. The ability to use forensic tools like Encase, FTK, Sleuth Kit, and others is a need.
You might be wondering how to develop your cybersecurity skills without first getting a job in the field. Start by thinking about internships. Through an internship, you can network with companies and likeminded colleagues in the field while leaning relevant skills that businesses are looking for. When you do start looking for jobs, it also gives you a competitive advantage over other applicants. Depending on the company, internships in cybersecurity may be paid or unpaid. Working on independent cybersecurity projects and contributing to open-source projects are additional ways to acquire relevant experience.
Whatever route you choose, be sure to keep a record of your development and experiences. To increase your opportunity of landing a job, include this record information in your coding portfolio.
For your cybersecurity profession to succeed, you'll also need to have a few additional skills, such as networking and operating system expertise.
Entry-level positions in cybersecurity can range from senior management to everything in between. Today, there are numerous employment options in cyber security. The best strategy is to start at the entry-level and advance to the following tier with the aid of the necessary experience and credentials.
Why Choose Cyber Security?
Cyber security is a field where job titles are frequently listed high on lists of the best careers. Here are some factors supporting the choice of a profession in cyber security, including low unemployment and financial benefits:
High Employment Rate
One of the most important advantages of having cyber security expertise is that you will be in great demand from businesses. As diverse companies battle the ongoing growth in data breaches, there is still a considerable demand for roles in cyber security. In 2022, the unemployment rate for this profession fell to 0%, where it has stayed ever since. As a result, you will acquire a skill set for preparing for this vocation that will make it simple and reliable for you to get employment.
Flexible Career Options
There are several job options available in cyber security, so you can pick the one that best suits your interests. If you appreciate thinking logically and solving problems, becoming a cybersecurity architect would be your perfect career choice. Or you might become a chief information security officer if you want to guide people and help in securing systems. There are many other job titles available, including cryptographer, consultant, engineer, information security analyst, and many more.
An Evergreen Industry
Cybersecurity has gradually evolved into an evergreen industry. Similar to how air pollution is a by-product of the industrial revolution, cyberattacks are a by-product of the digital revolution. It is simple to conclude that cybersecurity is a feasible career option going forward in light of the current scenario and the progress our society has achieved since the birth of the internet. While the field of cybersecurity provides a wide range of opportunities in several functional domains, security analysts and experts work in a remarkable variety of jobs. So enrolling in the cyber security master's program is undoubtedly a fantastic decision if you want to learn cybersecurity in the modern world.
High Job Security
With so many opportunities available, cybersecurity is one of the industries that is rapidly expanding and providing employment to job seekers all around the world. The ever-expanding scope of the technological world ensures that this occupation will continue to be in great demand in the future. Thus, security experts need not fear losing their jobs. This reality is especially comforting given the rapidly evolving nature of the work market, where new positions and functional tasks are gradually replacing traditional formats.
Cybersecurity skills
Cybersecurity analysts evaluate vulnerabilities and respond to security issues using a combination of technical and professional skills. Many workplace skills can be transferred from a wide range of occupations, so if you have experience in information technology (IT), you may already possess some of the technical skills.
Making a program do something by using scripting is a type of coding. Coding is static, whereas scripts can move text and graphics around. You can become a more effective analyst by learning how to create tools and automate repetitive work using languages like Python or PowerShell.
You must be knowledgeable in coding languages, including PHP, HTML, Java, and Python.
You must be familiar with networking, routing protocols, and encryption methods.
Everybody working in cybersecurity should understand the ideal practices for Identity and Access Management.
Cyber Security Job Roles
There are numerous job titles in cyber security, some of which are covered below:
Network Security Engineer
Most firms employ some type of network security engineer. This is an educated person in the field that works to protect the company with the proper security systems designed to prevent cyber threats. Their duties include stopping attached as they happen. Vulnerability detection, system maintenance, and automation are a key part of their duties.
Computer forensic analyst
A computer forensic analyst's main responsibilities include evaluating systems and devices and finding strategies for data recovery. They are able to gather data and learn more about the device users. When conducting a criminal investigation into a cybercrime, the authorities frequently enlist the assistance of a computer forensic analyst to help acquire the data they need.
Security consultant
The security consultant is adaptable and tech-savvy, ensuring the company's assets and data remain safe. They comprehend and assess different security techniques across all industries. The security expert selects the vulnerability test along with other tests to protect the network, computer, and data. Depending on the firm's requirements, consultants could recommend particular security solutions or products.
Vulnerability Assessor
Individuals who conduct several tests on the systems are known as vulnerability assessors or analysts. Finding the significant security system faults is their primary objective, and they also prioritize issues that have the most impact on the firm.
Cryptographer
Cryptographers are security system professionals who are in charge of creating code that hackers cannot decrypt. Cybersecurity tasks involve encrypting and decrypting data to keep it secure and away from hackers using cryptographic methods. If you enjoy coding, you will enjoy this mid-senior-level position. They are more in demand and quite important.
Penetration Tester
Penetration testers are people who are permitted to hack the system and look for a way in. They behave as though they are trying to hack the security system.
Security Auditor
The security auditors are in charge of identifying system vulnerabilities before anyone else. They examine the effectiveness of the firewalls and other security measures that are currently in place.
Conclusion
Cyber security is one of the most crucial elements in the rapidly expanding digital world. Its threats are difficult to overlook. Therefore, it is critical to learn how to guard against them and teach others how to do so as well. You can choose an online hacking course to learn more about cyber security and how to deal with cyber criminals so you can save the day on digital platforms.
FAQs
Is cybersecurity analytics a difficult task?
The fast-paced work environment and numerous technical skills required for cybersecurity might be difficult. However, it is possible to learn the necessary skills and information with some time and effort. Set aside some time each day to learn cybersecurity, and think about creating your own virtual space to practice such skills.
Does cybersecurity involve a lot of math?
No, a lot of math is not necessary for cybersecurity. But as it falls under the category of Science, Technology, Engineering, and Mathematics (STEM), proficiency in arithmetic can certainly help you advance in your job.
How can I become a cybersecurity expert on my own?
When it comes to cybersecurity training, it is critical to pick a genuine and reliable provider. Online courses on the fundamentals of cyber security are widely available.
You can learn at your own pace when you enrols in an online course or a boot camp. Furthermore, you can meet them by working around their flexible hours. A Bootcamp offers a one to a three-month-long specialized program that typically includes a final exam.