How Will You Spend Your Summer Vacation?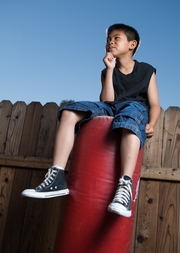 Wow! This is going to be an exciting summer. You've got so much fun waiting for you and the best part is that you get to make the fun happen. Here are five ideas you can read and think about. Pick out a couple and ask your parents to help get the fun rolling.
This list may help you think about ideas of your own.
1. Treasure Hunt! You can go online and read about the different ways that you can arrange the hunt. The best way to get all your friends together and ask a parent to hide the treasure. It could be a batch of cookies or a gift certificate for a pizza or each child could bring one small toy to make up the treasure. Or you could be the treasure master, stashing the prize and making up clues that you hide in advance.
Clues could be something like "Look for the tree with the home-made swing," or "Find the big grey rock and take three steps south." Each clue leads to another clue and at the very end, the treasure. Maybe each of your friends could pick a day and hold their own treasure hunt. The hunts can be as long or as short as you want.
2. Have a Box Sculpture Contest! This is easy. Just ask your parents to get empty boxes from a grocery or chain store. Make sure you have a lot of them in a lot of different sizes. Then you need strong tape, glue and markers to decorate what you make. You could even decide on a theme, like box spaceships, box forts or box cars.
3. Learn How to Fly a Kite! Kites are relatively cheap to buy, but many kids prefer to learn about kites online and make their own. This activity requires you to follow the weather and look for good places to catch the wind, usually a park or a hill. This takes those reflexes that help you play video games and uses them in the real world. And it's fun.
4. Put on a Kids Clothing Swap! Ask your parents what they think about this. It would be a good way to clean out closets as well as encourage everyone to recycle. Just make sure that all clothes are clean and mended when they are brought to the swap.
5. Explore Your Local World! Get a guide book or go online to find out what you can do in your home town! What is the oldest building in your city? Where was the first school built? Was anyone famous born in your town? Is there a museum you can tour? What about a pond where you can sail a boat?
No matter where you live, you can enjoy a whole world of adventure. All you need to do is use your imagination.
Can you think of more ideas?
We want to hear about them on our Facebook Page.