4 Lessons Your Child Can Learn While Studying Away from Home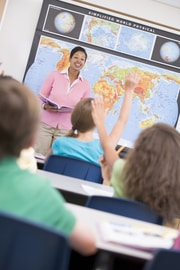 For many expatriate families who are living abroad, the choice of sending their children to an international school that offers boarding services is more of a necessity than a preference. This is especially true in the case of families whose parents must frequently travel to other countries for extended periods.
If they can count on a boarding school in Singapore that can readily accommodate their children during their absence, then these parents will be able to travel with peace of mind. Meanwhile, the students staying in their school's boarding facilities have every chance they need to pick up the following important lessons:
Independence and Responsibility
One of the first lessons that children pick up when they start living away from home is a sense of independence and responsibility. Being in Singapore makes this a little easier since the boarding facilities that schools in the city-state offer or use are subject to guidelines and regulations, even down to their location. These facilities are often near supermarkethttps://www.safesearchkids.com/4-lessons-your-child-can-learn-while-studying-away-from-home/s, convenience stores, bookshops, clinics, and other important amenities that students will need, and many are equipped with laundry units and other common utilities.
That said, to make the most of their stay in a boarding facility, students must be self-motivated, independent, and responsible for their own actions. They must be able to set aside enough time and energy to do their chores, attend to their academic requirements, and pursue their interests in their own initiative. Otherwise, they will have to deal with the natural consequences of their action or inaction.
Resourcefulness and Self-Reliance
Students who are living in a boarding facility are far from being all on their own. To ensure the safety and well-being of the students in a hostel or dormitory, most schools employ a team that will directly address administrative, housekeeping, and disciplinary matters. Students can always approach the people in charge if they are facing challenges that would require the input of a responsible adult.
Still, there are times when students must be able to resolve practical issues in their everyday accommodations by themselves. Such instances can help them think outside the box and maximize the use of the resources that are readily available to them. If a student finds that they don't have enough time to do their chores and to engage in their favorite pastime within a limited timeframe, for example, they can come up with a compromise or a solution to this issue all on their own instead of relying on other people to handle their chores for them.
Self-Awareness and a Sense of Community
More than just a place for resting and relaxing, a student hostel is a small community. Depending on the rules that they follow, a student may have a room of their own or share their lodging with 2 or more students. Staying in the same room with people of different backgrounds and personalities can be an eye-opening experience. It will make students more aware of their standards and closely analyze what seems normal to them. Perhaps, one student may have higher standards for hygiene and cleanliness compared to others, or a student may have the need to socialize more than the others in the room.
Such differences can cause conflict at times, but they can also inspire the students to think deeply about the habits they've picked up over the years and how they can improve as individuals. They may also feel empowered to draw on the strength they have gained from their parents when they were younger.   Overcoming these issues can also help improve a student's communication skills, understanding, and patience. These skills, in turn, will enable them to foster a community in their second home.
Appreciation for What They Have
It's easy to ignore and disregard privileges and opportunities when everything you want and need is within easy access. Children, having grown up in a house where everything they need is taken care of by their parents or guardians sometimes have a hard time being appreciative of the relationship that they share with their family members and the comfort that they enjoy while living in their homes.
A stay in a student hostel or dormitory away from their family can help children appreciate their parents and siblings better. Once they understand the level of work that needs to be done just so they can enjoy the quality of life that they are used to, children will be able to appreciate their family members more, and they'll also be able to hold in higher regard the comfort that they derive from living at home.
It can be nerve-wracking to send your children to live and study far from the place that they identify as their home. At the same time, though, it's also a great opportunity for your children to develop a sense of independence and responsibility that will continue to benefit them as they face bigger challenges later in life.
Staying in a safe and secure environment where they have easy access to their basic needs will give young learners the space they need to identify their strengths and weaknesses. It can also help them determine when they actually need assistance from others while also allowing them to learn how to live harmoniously as part of a community.
---
Read about the importance of building good study habits in early childhood.