Parental Control Software: The Internet isn't just a Search Engine Anymore…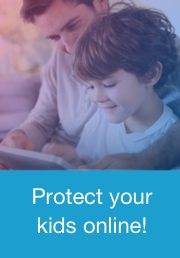 Savvy parents have gotten up-to-date about the wealth of Safe Search features provided by popular websites that partner with Google, as well as optional search restrictions for Google Play and the App Store. However, setting-up safe search filtering is simply not enough to keep kids protected from the variety of threats out there.
Sure, harmful websites will be blocked from an Internet search results page, but what about social media concerns, such as cyberbullying, online predators, or inappropriate images? What about disclosing harmful texts, such as sexting and personal photos that are best kept private? What about innocuous threats, such as spending too much time playing video games instead of focusing on homework and other responsibilities?
Yes, safe search filtering is crucial to maintaining the safety and innocence of children: but the Internet isn't just a search engine anymore. So many other elements are at play when it comes to keeping kids safe online. Not to mention, the more time parents have to spend managing screen time restrictions, social media, texting, photos, who their kid's friends with online, and more – the less time parents have to actually… parent.
A Comprehensive Internet Monitoring Solution
SentryPC is Parental Control Software that Monitors, Filters and Controls all aspects of online activity for kids. It is a comprehensive yet easy to use tool that gives parents peace of mind knowing their children are protected on the internet. SentryPC makes it easier for parents to monitor their kid's activities online, maintain their kid's safety, manage their kid's screen time, as well as manage their own time more effectively so that they can continue to do what they do best: Parent.
#1 Rated Parental Control Software. Monitor & Control all PC Activity! View Features and Download Options
Parental Control Software: Sentry PC's robust features include:
Web filtering including keyword and phrase filtering.
Application Filtering (Blocking apps by category, name or age-rating).
Real-time activity viewing and management.
Centralized management of multiple PC's and users.
Time management and daily Scheduling
Parents and guardians will also enjoy a slew of product enhancements, including:
Chat filtering.
Security options to block system changes on computer.
Alert notifications by email
Invisible / stealth operation.
As a parent, you no longer have to play the "guessing game" as to what their kid searches for online, who their friends are, and whether they are actually studying for that history project or just goofing off on World of Warcraft.
Click for Details and Try Free in Demo Mode
Technology is here to stay. This is the reality. Parental Control Software helps parents adjust to the new reality, ensuring not only that their kids stay safe – but they can build a better, stronger relationship.
Do you Know?

Do you know what your kids are looking at online? 41% of U.S. teens say that their parents have no idea…

Do you know how often your kids frequent social networking sites? According to the Norton Online Living report, 76% of U.S. teens ages 13-17 are "constantly" or "frequently" visiting social networking sites.

Do you know if your child has been contacted online by a stranger? 16% of U.S. children have been approached online by a stranger. Is your child one of them?
What is YOUR Strategy?
You can rely on the search engines or app stores for filtering services – which don't include social media or screen time monitoring – or you can join 7,000,000 other parents who've partnered up with parental control software, such as Familoop Safeguard.
Discover how much time you save hunched over your child's shoulder monitoring their online activity. Find out how quickly your parental focus and peace can be restored in your home.