Camping with Kids Checklist!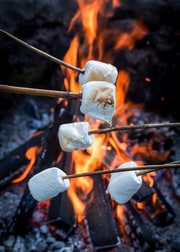 Are you planning to take your family on a camping vacation in nature? Going camping with your loved ones is one of the best outdoor activities that you can opt for. However, do you know what to pack to have a safe trip and family happy?
Here is the gear that I recommend for you.
Family camping checklist
Safety and well-being are first to consider when going outdoors. Which gear should you take along if you want to have a peaceful and satisfying journey? Kids can be hard to please but you can make happy faces even without bringing a bunch of their favorite toys and games to a camp.
The whole point of camping is to have fun and reconnect with nature. Fun activities include hiking and exploring the trails, bicycling, animal watching, reading, learning survival skills, cooking the family's favorite meals over a campfire, and many more. To make the activities possible you will need to bring the next items to a trip.
Camping sleeping equipment
When it comes to sleeping stuff you need to consider bedding that will be comfortable for family members because the level of comfort will show the next morning. As you will be active through the day you need to have a bed like at home to have a proper rest.
Tent for spending the night
The camping tent you choose must be big enough for all of you; this is the first feature to consider. Ask yourself what kind of tent you want. Do you need a tent that will be appropriate for hot days or need a waterproof tent for camping in the rain?
Also pay attention to the tent's hydrostatic head, breathability, brand, and other features that will determine the success of your trip.
Sleeping bed and accessories
When having a roof over your head is taken care of you need to think on/in what you will sleep. If you will choose a rainy and cold season I recommend using sleeping bags that are insulated or sleeping beds with blankets.
Sleeping pads, mats, or camping cots are also an option but for setting up the cots you will have to have enough space. Opt for an inflatable pillow and take pajamas for the kids to increase sleeping comfort.
Clothing and footwear
Clothes are one of the most important family camping essentials, or should I say a specific type of clothes. When packing clothes for each member make sure you pack enough to keep everybody satisfied. Pack extra underpants, T-shirts, and socks.
I recommend using cotton, fleece, or wool clothes under the waterproof ones while you hike and explore and when staying inside a tent. What you wear under the jacket is not so important as wearing a waterproof jacket or a coat when it rains and you are out there exploring with children.
If you will be dressed in cotton and rain will start to fall you won't be protected and can get a cold or get sick as the water can soak you to the skin. Don't let it happen as you might be canceling the journey due to unpreparedness.
Pack some gloves, scarfs, warm boots, and hats if you will be camping in wintertime. Regarding footwear, you should walk in comfortable shoes or boots that are waterproof. Break in the shoes at least a week before heading to the camp.
Cooking stuff and food
Keeping your party fed is also one of the things that should be taken care of. Where will you cook and what fuel will you use? As a camper, you can opt for a camping stove that runs on propane. These stoves are very practical to cook a meal or a cup of tea. The stove will need a small propane tank to function.
In what will you cook? The best thing is to buy a cookware set for outdoors that has foldable units. Make sure the set has all the items you need to prepare a meal and a hot drink. Don't forget about eating utensils, a cutting board, knives, matches or a lighter, cups, and paper towels.
If you have time and will you can cook some make-ahead meals so you won't need to spend much time cooking at a campsite. My girlfriend cooks rice, pasta and prepares meat at home, and packs the food in containers or plastic bags. Surprise your kids by hanging out over a campfire while making s'mores as this is an evergreen classic that makes everyone happy.
Additional Items for Camping
What about other stuff that is recommendable for a family camping?
A tent heater
If you are not camping on your summer vacation, it may get cool at night in the spring or fall.  Did you know that you can use a small and safe heater inside a tent? Outdoor companies make heaters on propane or electricity that will make the tent's interior warmer and cozier. When getting yours make sure it is safe to use in a tent.
A tarp
Having a tarp with you can be a lifesaver. You can put it above the shelter to make your tent even more waterproof or put it under the tent so the rainwater won't find its way to the tent.
This piece of outdoor gear is perfect for building a covered place for storing the gear you don't want inside the tent, to cook, and dry clothes. It is a versatile item to use that I warmly recommend taking along.
Entertainment games
It is clever to take some fun and learning games that you all can play when you are bored or when rain is soaking the campground. Make sure that you take those that are meant for more players and leave the Game Boy at home as you want all of you to have fun together.
Flashlight
Without proper lighting, you won't see at night and won't be able to find things that you need. Take a flashlight or a headlamp with extra batteries so your kids won't be scared when the dark comes and that you will be able to function in the dark.
You can also pack a lantern and candles along; just make sure the candles are placed on a tray so the wax won't burn the tent's floor.
Pack smart and enjoy your family time!
Camping packing things must include safety equipment and those that will make your outdoor stay fun and worthwhile. Consider my family camping list and also include your favorite items to have one of the most exciting vacations in nature with the people you love the most.