Do Babies Always Respond to Their Name?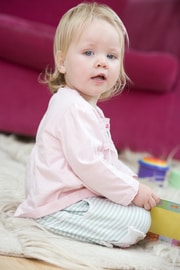 As parents, we do get alarmed when our children fail to respond to their names. That's because this could be a sign of autism and other developmental delays we don't want our little ones going through. Needless to say, children also develop at their own pace, and what you might take as a sign of autism could simply be your youngster operating on their own timeline.
That said, remaining in the dark and hoping for the best is hardly a space that parents want to occupy when it comes to their children. And while we can never be one-hundred percent sure of the answer until we see understanding reflected in our child's eyes, it does help when we know the signs are mostly pointing toward a positive outcome.
So, do babies recognize their names all the time? No, they don't. But this shouldn't be an immediate cause for concern unless your little one is way past this milestone. Besides, you can help speed things up on your end by employing the speech-enhancing tips we'll be sharing today.
Getting Your Children To Respond To Their Name More Often
For some children, it takes a while to have full recognition of their name. Sometimes, they'll respond to it right away; other times, they'll ignore it completely. If an intellectual disability is not the reason behind this, you can get your child to acknowledge their name with the help of the following:
Response in Isolation
There's no question that children get distracted easily. They might know you're calling their name yet fail to respond because their attention is on something or someone else. That is why you should first teach name recognition in isolation.
Teach your child to recognize his or her name when there are little to no distractions. Your bedroom or the kitchen could be a good area to start since it doesn't have any toys lying around or any fun things taking place.
Once in this isolated environment, sit your child down and start the name-recognition process. To do things correctly, you must prepare something your child likes as a reward. It could be their favorite food, toy, or gesture from you.
Wait for a specific time when they're looking away before you call out their name. If they look your way, hand over a reward. If they don't respond, call their name out again louder, accompanied by some sort of commotion, like clapping, waving, or tapping on the table.
Whenever you present a reward, make sure your little one knows what it's for. Do this repeatedly, using just their first name and only use waving and clapping when they fail to respond the first time.
Response in a Structured Setting
Now, it's time to dial up the distraction levels and see how your child fares. After all, distractions are a reality your youngster eventually has to deal with. Your child should learn to recognize their name with distractions present.
To do this, take your child to a room where an appliance or two is running. It could be the television or radio or some toys lying on the floor. Repeat what you did in the previous method and call out your child's name to see if they respond. If they do, reward them. If not, say their name again louder, accompanied by some tapping and clapping.
Of course, the presence of distractions means it might be a bit harder for your little one to focus on what you're actually saying. Thus, give them a little more time to respond. You just have to keep calling out their name until they eventually look your way. Keep on practicing this method until you're satisfied with your child's level of response.
Response in an Unstructured Setting
You could be feeling a little bit better about the situation once your child nails the second method. However, things aren't quite done just yet.
The third lesson involves getting your child to react to their name with any or all distractions present. So, in this case, you might want to bring them to a room that has all their favorite toys, people, and things to do.
Unleash them into the room before you call their name out. Make sure to stand close to them when you do and wait a moment for a response. If they recognize their name, proceed to hand over the reward and let them know what it's for.
Though keep in mind that your child might not look your way all the time. What's important is that he or she responds enough times for you to know that he or she absolutely recognizes the name you gave them.
Children and Their Unique Timelines
While a child has milestones you expect them to reach at a certain age, delays can often happen. Your child might not talk, respond, or act like their peers, and that could be perfectly okay and normal. Your child might simply be biding their time and will catch up eventually.
Though we also understand how this might keep you from getting some sleep. And in that event, you'd do well to get in touch with a speech language pathologist to help address the situation you suspect your child is in.
Expecting a baby? Explore tips on how to prepare before your baby arrives.