Special Baby Gift Ideas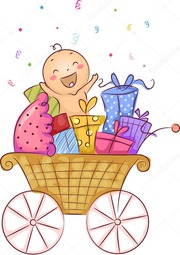 There can be a lot of pressure when hunting for the ideal gift for a new baby or shopping for a baby shower. There is so much choice. It's almost overwhelming. This can make shopping for a baby difficult. You want to get something unique but need help figuring out where to start. Human intuition is meant to help us, but it makes choosing gifts even more difficult.
When someone tells you, they're expecting a baby, and you get that excited grin on your face, it's only natural that you want to buy them something beautiful. But sometimes, knowing what to buy can be challenging. Barneys New York baby gifts offer a wide variety of presents that are sure to delight any new mom and dad.
Here are some of our favorite baby gift ideas:
Organic Baby Toys
Organic baby toys are a great gift for any new parent. They can be a little more expensive than the average toy, but the benefits to your child and the environment make them worth it. Organic metro card rattles, taxi rattles, hot dog baby rattles, and football toys are some things you can purchase at Barneys New York.
Organic toys are made from safe materials for babies and kids to play with. Many of these toys are made from natural materials like cotton or wool, which means they're perfect for little ones who haven't yet learned how to share! These organic toys don't contain harmful chemicals like phthalates or lead, so you don't have to worry about what your baby might put in their mouth when they play with them.
These toys are also good for the environment because they don't include petrochemical-based plastics or dyes that could pollute our water supply. Plus, local businesses make many of these toys locally, meaning fewer carbon emissions and more jobs!
Embroidered Sweat Suits
Many people give clothes as gifts, which is excellent, but embroidered sweat suits for babies are different. They're made from soft, high-quality material that will keep your baby cozy and happy. But what makes them stand out is the embroidery: it's not just a cute design on the front of their outfit, but an actual message that will make your child smile every time they wear it. For example, you can have the option where the seller can embroider "I Love Mommy" on one side of the neckline and "I Love Daddy" on the other side of the neckline.
Personalized Baby Blanket
Whether you're a parent or just thinking about becoming one, a personalized baby blanket is a perfect gift. It's not just that it's adorable—it's also practical. A customized blanket will be used for years (or until it gets too small and needs to be replaced). And since babies love to cuddle with blankets, this one will get plenty of use!
But the best part about this gift is that it shows your love for the new parents and their baby. The blanket can be customized with their child's name or initials, so it will become an essential part of their daily lives, reminding them of your affection every time they use it. It's ideal for winter and can be used as a stroller blanket or crib sheet, depending on the baby's age. Blankets come in many colors and patterns, so you can pick one that matches your friend's home décor or their favorite team.
Hooded Towels for Baby Bath Time
Hooded towels are a great gift for babies and toddlers. They're soft and cozy, and they last for years. They come in various colors and designs, so you can choose one that matches the child's interests or personality. They're also great for keeping babies warm in the tub or pool.
We recommend hooded towels because they cover more surface area than regular towels, keeping your baby warmer longer! The best-hooded towels are made from 100% cotton. Cotton is soft, absorbent, and breathable, so it keeps your baby comfortable. It also dries quickly after being wet, which helps prevent mildew or mold from forming in the fibers.
Special Baby Book To Record Milestones
It's perfect for those who like to document important events in their child's life. It's an excellent gift for parents who want to keep track of every little thing that happens with their babies, from the first time they smile to the day they walk for the first time—and everything in between. The book includes space for photos and a personal note on each page, and space at the end to write down all their child's future achievements. This is a book that new parents will treasure forever.
Tee-shirt Onesie Set
For new parents, the first few months of their baby's life are a whirlwind. Between sleepless nights, breastfeeding challenges, and constant laundry, they need all the help they can get. That's a multicolored tee-shirt onesie set—it's a fun and easy way to help new parents with one of their biggest challenges: dressing their child. Each outfit comes with matching pants, so there's no need to buy other clothes for your special gift recipient's little one!
With these clothes, parents can spend less time worrying about how they will dress their baby next and more time enjoying precious moments together as a family unit. These baby clothes are soft, comfortable, and durable—perfect for everyday wear. Whether it's a baby shower or just a way to celebrate the birth of this new little bundle, these sets are sure to be a hit.
Baby Food Maker
A baby food maker could be the ideal gift for your child if you want to offer them something valuable, enjoyable, and thrilling. It's a clever way to ensure your child gets the nutrients they need while being super fun. The parent can make all kinds of different foods, from applesauce to carrots and even pizza! And when they're done eating, you'll have extra time on their hands because they won't have to spend hours peeling, chopping, and pureeing.
We hope this guide will help you find the perfect gift for your newborn or expecting friend. The best baby gifts are well-thought-out and a mini reflection of the parent's or friend's interests. This list has everything from blankets to toys to keepsake items, all with an original twist! It can be helpful throughout many years of the baby's life, even after being out of the crib.