A Great Reading List for Kindergarten Children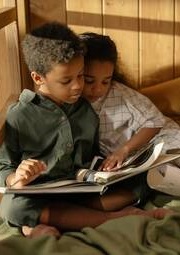 If you are looking to introduce your children to the world of books, there are few ages sooner to do so than when they are still in kindergarten. Even if you know that you want to start your kids on books, you may be confounded about which books are best for them.
To that end, we have provided several examples of a kindergarten read aloud lesson plan that accounts for length, wordiness, and their ability to grab kids' attention.
"Mae Among the Stars" by Roda Ahmed
This is the story of a girl named Mae. Mae dreams about dancing around high up in outer space, surrounded by glimmering stars as she moves about the cosmos and learns more and more about it. She soon realizes that she wants to be an astronaut when she grows up. Upon hearing the aspirations of young Mae, her mother encourages her by saying it could happen if she truly believed it will and she works hard to achieve it. Mae's willingness to learn, dedication, and intellect plus her parents' encouragement help the young girl rise through education, join NASA, and eventually earn the unique claim of being the first African-American astronaut.
"Leo: A Ghost Story" by Mac Barnett
Leo is a quirky little boy who enjoys drawing pictures and making snacks. Leo also happens to be a ghost, which makes it impossible for most people to ever notice him. After a new family moves into his home and his few gestures as welcoming the new tenants are all grossly misunderstood, Leo considers moving on to see the rest of what the world can offer. It is during this moment of crisis that Leo meets the super-imaginative Jane. Jane can somehow see Leo and wants him to serve her as a knight. The two strike up a friendship that serves as the start of a true adventure.
"The Day The Crayons Quit" by Drew Daywalt
Duncan is a little boy who is in the mood to do some coloring. Unfortunately, the moment he opens his crayon box he only finds several letters with the same message. Each of his crayons is fed up and has decided to quit being used for coloring. The blue crayon is worn out from being used to color water, the black crayon feels underused since Duncan only uses it for drawing outlines and the yellow and orange crayons are feuding because each believes its color to be the true color of the sun. This book illustrates what a person can do to ease tensions between different individuals and restore their interest in what they are best suited for.
"Waiting Is Not Easy" by Mo Willems
This exemplary book for introducing kindergarteners to books is the perfect choice for any little one that has trouble sitting still. The book is just bombastic, humorous, and easily legible enough to keep the little ones invested in a story about dealing with friendship and properly exercising patience and extolling the merits of doing so. Furthermore, the story is appealing enough that most kids will appreciate rereading it or having it read to them on multiple occasions.
"Friends Stick Together" by Hannah Harrison
Rupert is a kind, upstanding rhino. Levi is a rambunctious, uncouth tickbird. Rupert grows frustrated with Levi's coarse behavior and antics in school and his frustration only grows upon learning that Levi plans to make himself the best friend to Rupert. The one thing Rupert wants to happen is for Levi to go away. Soon, Levi finally leaves Rupert alone but the rhino soon feels like things have gotten considerably more dull and boring without the brusque bird to keep classes lively. This is a great story for encouraging children to value and respect other kids with wildly different behaviors.
The Last Page
Well, that covers a handful of choice selections to start stocking your kindergartener's library shelves with. Each of these books is an ideal piece of youth literature because the text is simple and large enough to process.  Both the stories and their illustrations are wild and entertaining enough to keep children invested without overwhelming them. After exposing your kids to one of these stories, they will love them enough to give you time to get more to read.
Educational Books for Kids | How to Choose the Right Ones for Early Learning