The Kids Academy App and Website for Safe and Fruitful Learning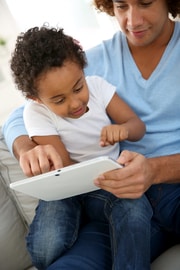 More so than ever before, today's kids are a generation of digital learners. Technology such as videos and smartphone apps are revolutionizing the way parents teach their kids the basics, such as their ABC's and 123's. And among the wide variety of options, parents need programs they know they can trust.
Kids Academy is an educational platform that offers both parents and schools a wide range of interactive learning materials to supplement early learning for kids in preschool through the third grade. Not only do they offer a website jam packed with free learning resources, but the Talented and Gifted app also provides a structured and individualized curriculum that utilizes AI technology to score worksheets and deliver feedback for standards-aligned activities. What's more is that all content on the app is safe and age-appropriate, and there are no ads or in-app purchases.
As mentioned above, there are two main hubs for Kids Academy content: their website, and their Talented and Gifted app. Let's take a more detailed look at what each offers to families.
Free Educational Games, Worksheets, and Videos
The Kids Academy website boasts of a huge collection of worksheets that cover subjects across different curricula to meet the educational needs of preschoolers and early elementary students. These worksheets can be downloaded, printed, or played online in a browser; and for all the options there's auto-checking that can deliver immediate feedback. In all, there are over 3,000 worksheets on a variety of topics that include catchy graphics and engaging voiceovers to help struggling readers and pre-readers.
In addition to worksheets, Kids Academy is also compiling a fun collection of interactive learning games that children can play for free from their web browser. Parents can find a little bit of everything in their collection of games, including foundational skills for preschoolers, such as letter tracing or sorting games, as well as more advanced games to help older kids master concepts like skip counting or using decimals.
Another exciting resource on the Kids Academy website is engaging learning videos and songs that serve to teach learners about the very concepts they are already working on using the worksheets. Many times, the videos are hosted by real educators who directly teach the concept and walk children through a connected worksheet available on the website. In fact, the site offers parents an option to select complete lessons in which worksheets, quizzes, games, and videos are bundled together to make cohesive lessons without needing to compile the materials separately. It's never been easier for parents to find exactly what their child needs, all in one place!  Discover additional online learning resources for kids of all ages.
The Talented and Gifted App from Kids Academy
While many of the same resources included in the Talented and Gifted app are also available on the website, the app has a multitude of unique features that make for a richer, more individualized learning experience. Worksheets, videos, and games are all included in the app, but parents and students will also benefit from the following:
Structured curricula that take children along a learning pathway via chapters and lessons. Parents choose the starting grade or skill level, and children progress gradually as they learn and gain skills.
Quizzes that recap what's been learned and assess a student's progress; in addition to that, parents receive a weekly progress report via email that details their child's performance.
The app contains different choices for how content is displayed; for instance, there is an Adventure Land section where activities are grouped around small, digestible topics and always include game to make for a more engaging experience for struggling learners.
There is a motivational game called Dress-Up Eddie, which is an exciting element that gives children the ability to spend the earned points to customize a cute character with funny costumes.
In all, there are over 4,000 activities contained within the app to keep kids motivated and learning. Just like the content included on the website, all materials in the app are age-appropriate, cover all major subjects, and are created in partnership with expert educators who have curated high-quality learning content in a way that learners will love.
In just the past couple of decades, the way that children learn has drastically changed. Parents and their children now have the option to supplement learning with innovative technology that can boost early learning skills like never before! Kids Academy helps families in this endeavor by providing the highest quality learning materials on both their website and mobile app.
Find out even more about Kids Academy and look for their app on Google Play or on the App Store!