Ads in Kids' Apps: Recognizing Practices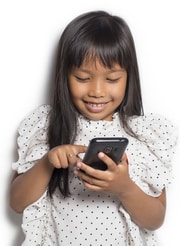 The online world is a very helpful place, brimming with content that helps your child learn and apps to keep youngsters connected with family members. However, there are negative sides to the web too. Today, we're going to look at ads in kids' apps and how they can manipulate your child.
The Problem with Ads on Kids Apps
Parents today have to be diligent about making sure their kids don't share too much information online and ensuring that they are protected against cyberbullying. Even the apps your children use can have issues that need to be addressed.
Most of today's app creators and business leaders use display ads to make money – and that applies whether you're accessing an app for children or one for adults.
One study discovered that some apps are even designed to make children feel guilty if they don't pay for in-game content.
Other apps have earned backlash from parents over the years because they serve adult-themed content, even though the apps themselves are tailored to children. Certain groups are starting to take steps to prevent kids' app creators from adding dangerous or inappropriate ads to games and educational apps.
In the meantime, as the FTC examines the ad practices used by developers, here are some malicious practices your kids need to be aware of.
Dangers of Sharing Private Information
Children don't always have the best grasp of the dangers associated with sharing information online. They don't know what dangerous people might be able to use their address or phone number for. They often feel comfortable revealing information that they perceive to be common knowledge, like their age or full name.
To ensure that your child's protected from ads trying to gather personal information, make sure your kids know the difference between sensitive and safe information. It might be helpful to give your child a list of information they should never share online that they can check if they're unsure.
Tell your children to come and get you if an app ever asks for information that they're not sure is "private" or not.
Your children should always feel comfortable coming to you about anything they're unsure about when they're using the online world. Make sure you create an atmosphere that supports open communication about internet safety and the digital landscape.
Excessive Amount of Ads You Can't Control
If a child comes and asks you whether they can download an app on their smartphone or tablet, it's usually a good idea to check it for yourself first – before you agree.
Examine the app for yourself after installation to make sure that there aren't many ads that will overwhelm your child. You may need to explore the app in-depth for a while before you start seeing the different ad options available.
Even if the app seems to be appropriate for your child's age range or the app is educational in nature, there's always a risk that it's packed full of ads that your children can't control.
It's also worth doing some extra research online by checking out comments and reviews left by other parents.
Searching for the name of an app on Google should give you some insights into the kind of content it shows. You can also check the app ratings on the Apple or Google play store. If you notice other parents warning people away from the app, don't allow your child to download it.
If you can't find any information about the app online at all, then this could be another bad sign. It indicates that the company responsible for the app may have deleted negative comments.
If your ban on the app is met with your child's protest, the best way to address it is to be open about why you don't agree with them using the app.
You can discuss any negative comments or bad practices the app developers are using – in an appropriate manner, of course.That way, your child will become more sensitive to certain topics and issues should they arise in some other app they're using.
Avoiding In-App Purchase Ads
It's becoming increasingly common for modern app developers to list their apps as "free" only to overwhelm children with a host of things that they need to pay for once they've set up an account.
These "pay to play" games encourage children to pay for extra lives or in-game content and can even guilt them into feeling like they need to spend their parents' money.
Although you can always set limitations on your child's phone and tablets that prevent them from being able to make a purchase in an app, it's best to avoid games and apps with internal purchases entirely if you can.
Usually, you'll be able to see whether in-game charges are an issue on the description for the app on the Google or Apple store.
If your child comes to you asking for money for an app that they've downloaded for educational purposes, make sure that you carefully check the terms and conditions of the purchase.
Ensure that purchasing a specific item doesn't mean that you sign up for any recurring subscriptions or open the door to new ads.
Apps for Children Shouldn't be Filled with Ads
Nowadays, many businesses develop mobile apps because they offer various benefits – from data collection to targeted marketing messages in order to increase sales or awareness. However, while adults can easily detect dishonest practices, for kids, they may not always be that obvious.
A great app for children should be a source of education and entertainment. The best apps can help your child to develop new skills and provide them with access to useful information. Good apps can also be an excellent way to keep your child's mind active and help them with all kinds of learning challenges.
While the occasional ad may be a necessity with some apps that need help to pay for development and building processes, your children's apps shouldn't be riddled with ads.
Until the FTC and other groups can work together to limit the kind of advertising children are exposed to on smartphones and tablets, it's up to us as parents to carefully assess and choose the right apps for our children.

Ashley Wilson is a digital nomad and writer for hire, specialized in business and tech topics. In her self-care time, she practices yoga via YouTube. She has been known to reference movies in casual conversation and enjoys trying out new food. Contact Ashley.