Tips for Parents of New College Students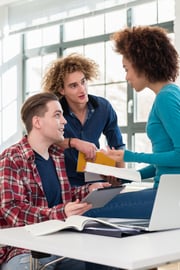 Your child has been accepted for college and you couldn't be prouder. However, if this is the first time you've had to wave a child off to college, there are probably many things going around in your head about how they are going to cope.  Apprehension, mixed with excitement for your teen, is natural for any parent.
Here are our top five tips for parents of new college students to help you and your child through the first year.
Encourage Your Child to Keep in Close Contact with Their Academic Advisor
Regularly checking in with their course advisor will help keep your child on track with their studies. It will also ensure that they don't end up in a situation where they must take extra classes (at an extra cost) to catch up. Their advisor will help keep them on track with their credits and ensure they're making the required progress towards their degree.
It's always easier to nip any problems in the bud than to try and catch up later. These professionals can also help with things like creating a recommendation letter, finding clubs on campus, or offering valuable study tips so building and maintain a relationship with them is a great idea.
Investigate Local Scholarships or Those Offered by the University
Set up a meeting for you and your child with the university's scholarship department to learn more about available scholarships. Quite often the university will hold general meetings to provide details of funding offered. Encourage your child to apply for scholarships and grants online. They can build a profile before they can be matched to eligible scholarships for college. If something suitable is available, they can then apply directly.
Note that funds from a scholarship can be added to the student finance account at any time during the school year, not just at financial check-in. So, if you haven't already looked at scholarships, it's not too late.
Keep Records of All College Expenses That Are Tax Deductible
If you are supporting your child financially, the college will send you a tax form at the end of the year. Ask your child to keep and send you receipts for purchases that are related to their coursework such as books, supplies and equipment. You can then use these as tax deductibles.
Find Out if There is a Parent Program at the College
We all know how our children forget to keep us informed about what's going on. Joining a parent program will help to keep you in the loop about any opportunities and events for parents and families on campus. The program may include activities such as family sports days, barbecues, and tailgate parties. Ask about the possibility of joining at move-in or orientation day and sign up for any newsletters that may be available.
Find Out What Books They Will Actually Need
Don't rush out and buy all the books on the reading list. You may find yourself paying for books that are never used. Most textbooks can be found at used book sites online or can be loaned from a library. If a student emails the teacher in advance, they can ask if a particular textbook is needed. Sometimes they are not. Students can also access books via online forums from prior students of the course either for free or a very low cost.
Nurture Independence
As a parent, your instinct can be to help your kid as much as possible. The problem with this well-meaning impulse is that it can result in a child growing toward adulthood who is unprepared to solve problems on their own. It can feel good when your kid needs you, but it's to their detriment if you prize this over letting them be independent. It's important to let them feel proportionate consequences for their actions; if they don't study for a test or complete an assignment, they won't get a good grade on it.
Dealing with the Change in Your Life
The academic life of a child is a time of nearly constant change.  It can be often be tough to cope with, especially if they no longer want to do the same activities with you that they used to or seem to be pulling away from you. It's important to remind yourself that as long as they aren't moving toward something harmful, this pulling away is a sign you've been successful. Of course, you can continue to be a support to your child while preparing them to be their own person and to take on the world with confidence.
Resources for University and College Prep