6 Tips for Throwing a Stay-At-Home Birthday Party for Your Kid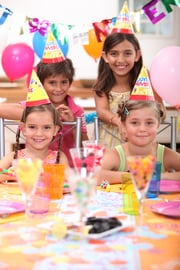 Every parent wants their kid's birthday party to be special, fun, and absolutely perfect. Throwing a party at home might make you feel like you have limited options, but that's actually quite the opposite. A DIY party means having complete control over the preparations, decorations, and everything else in between.
Here are some awesome ideas for a memorable birthday party for your little one without leaving the house:
1. Put Every Surface To Work
A party at home doesn't always have to be confined to the living room. Pepper your whole house with decorations and repurpose other rooms into snack corners or game areas. If you have a backyard or garden, consider having an outdoor cookout for an alfresco hang out with your child's guests bored kids.
Your child and their friends will surely enjoy some barbecue or roasted marshmallows where you can set your grill. Moreover, you can cook and conduct some games simultaneously to avoid dead air during the party.
2. Let Your Child Make The Call
Your house, your rules – so you don't have to stick to traditional party traditions. Whether your child wants to have a game day or a movie night, order pizza in place of home-cooked meals, get their opinion on anything and everything.
To add fun and excitement to the party, you can list some parlor games that your child wants to play for their party so that they won't get bored during the celebration. After the activities or games, you can reward them with fun prizes.
Additionally, your child can also decide whatever they want to have for their birthday party.
3. Bring The Party Online
Arrange a virtual party for family members and friends who couldn't make it to the party. Choose a specific activity that will be the focus of the event so it won't be reduced to an awkward hi-hello with faces on a screen.
Furthermore, you can still have a theme and designs for your kid's online virtual party. For example, you should select your kid's favorite as a theme. Having backgrounds can make your child's online party fun.
To make the virtual party even more exciting, you can also prepare online games that each virtual guest can play. You can also send cakes or food to them so that they can also enjoy themselves while virtually having a birthday party.
4. Create Some Do-It-Yourself Decorations For The Party Theme
If you've decided that you'll conduct the party face-to-face, it can be more special if you can have do-it-yourself (DIY) party decorations with things you already have. You can even find free decorations online like printable decors that you can cut and paste to your walls. It may be a game-themed party where kids play a variety games or if your child loves cartoons, you can have a cartoon-themed birthday. You can print out cartoon characters to use as decorations for your walls.
Furthermore, you can also involve or let your children help decorate their party so that they feel that they're part of the enjoyment.
5. Buy The Cake That Your Kid Wants
A birthday can't be complete without a cake to blow. Your child shouldn't miss the sweet and creative cake they can eat after singing happy birthday to them. You can always choose a theme your child wants and request it from professional bakers, and let your child enjoy it.
Moreover, you can also add sparkling candles to add more thrill to your child's cake and ensure that it's safe around the kids. The birthday cake can be the highlight of your kid's stay-at-home birthday too.
6. Don't Forget The Gift Opening And Giveaways
Of course, you shouldn't skip the part where your birthday boy or girl will open the gifts that they received from their friends or the guests. Moreover, this can be an exciting part of the birthday party and see them open their birthday present. Opening gifts in front of the guests can provide an exciting feeling too.
Before ending the party, you can give out goody bags or small souvenirs as a token of appreciation to guests who attend or join your kid's birthday party. Giving back to your guests means that you appreciate their time and effort to attend the birthday.
Conclusion
A stay-at-home birthday party can be a great option if you have enough space and want to customize the whole event that your child likes. Even if you're just at home celebrating, the main point of throwing a party is that your kid likes the theme and having fun with their friends and guests.