How to Make Gaming Online Safer for Your Children
Kids love video games. They're fun, exciting, and can even be educational. However, there are some risks involved when playing online games. As a parent, taking the necessary steps protect your children from these dangers has never been more important.  The worst of these dangers are cyber criminals, predators and hackers.
They use online gaming platforms and gaming websites to seek out children to exploit or to use them as as a gateway to an attack.  Parents are the first defense against potential harm and it begins with understanding the risks of their children's digital environment. So, how can you safeguard your children online? Here are some ways to keep your children safe online.
1. Parental Controls
There are two types of parental controls available to protect kids on smartphones, desktops, and consoles such as 3DS, Nintendo Switch, or PlayStation is important.   Mobile devices such as phones, tablets and computers come with very limited filtering settings.  This includes when kids play online games such as Fortnite and Roblox.   For these types of computer related devices you will need to install parental controls apps or software.
Gaming on consoles, such as Nintendo, Xbox or PlayStation, will require parents to use built-in parental control settings.  There is no means to install parental controls on these types of consoles. You can set privacy settings on the console to limit who can message you and prevent strangers from seeing your name.
Keep your devices up-to-date:  Your child's device should regularly updates with the most recent software patches. Many gaming consoles and other devices are launched with unknown vulnerabilities. Manufacturers release updates to address these vulnerabilities later. Hackers and cyber criminals can exploit unpatched vulnerabilities to infiltrate your network. This can give access to your network at work or other devices at home.
2. Age-appropriate Games
Parents can use video game ratings to determine whether the content is suitable for their children before they buy them. Ratings can vary depending on where they are located, what device they use, and what platform they are on.
PEGI, for example, is primarily used in Europe and Asia. PEGI 3 indicates that the game is suitable for all ages, while PEGI 18 signifies that the game contains adult content such as gross violence. Other numbers are determined based on the game's level of violence or sexual content.
The Entertainment Software Ratings Board (ESRB) rates game distributed in the United States. Instead of numbers, ESRB uses letters such as E if the content is suitable for everyone (or everyone) and An if it is only for adults.
The App Store uses global Application Ratings. Numbers indicate the ratings. Numbers indicate the rating. For example, a rating of 4+ indicates no objectionable material within the app. A rating of 17+ indicates that it may contain material unsuitable for children younger than 17.
Google Age Ratings are available for Android users. They are based on an International Age Rating Coalition (IARC) system. These ratings are often based on the most popular regional ratings.
3. Use strong passwords
Use strong passwords for your children's accounts and educate them about the importance of protecting them. They cannot give out their passwords or other personal information to anyone. They should not share login details or other private information in chats or social networking platforms.
You can teach them how to enable MFA (multiple-factor authentication) whenever possible.
Remind your children not to use the same password for multiple accounts to prevent credential stuffing attacks. They should also ensure that they log out of gaming accounts after they are finished using them.
4. Only Download from Trusted Sources
Remind children that they should only allow their parents to download expansions, apps, and games. Teaching older children about the dangers of downloading apps and games from other sites is important.
Hackers often spread malware disguised as a game app, expansion, or cheat code. Once they have downloaded the malware, hackers can gain greater access to the device.
It is important to remind your children that only official sites can be used for downloading games. While many official sites have security checks in place, there are still some bogus apps that can slip through the cracks. Make sure to always check out reviews before downloading any games.
5. Do not click links or download files from strangers
Your children should not click on links sent to them by strangers via chat. Security risks can be present even for links sent by friends. Many phishing links are sent to children who click them, thinking they will be able to download a cheat code.
It does not contain bonus content or cheat code but leads to a site that collects their information. The information collected may be used to commit identity theft or fraud.
Children should be aware that file attachments can contain malware.
7. Get Rid of the Headset?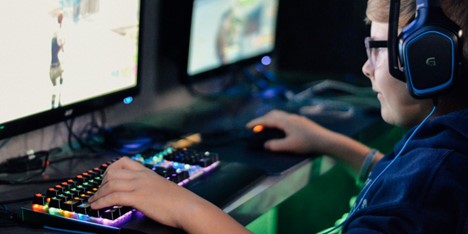 Parents with small children are especially vulnerable. While you might think that a headset will quieten the house, it could be dangerous for your child to start talking to strangers. Online predators pose as children and lurk on gaming sites.
They may befriend children, gain their trust, and then abuse them.
Online grooming involves teaching children to keep their conversations secret from their parents. Parents don't know their children are talking to predators, so they are tricked into sending photos or videos. Even worse, they may be forced to meet in person.
Online grooming is easier with a headset because parents don't have to spot potential red flags immediately.
8. Do not use public Wi-Fi
Children might feel tempted to use a public, unsecured Wi-Fi hotspot to play on their mobile devices or Nintendo Switch while out. Connecting to such a network can pose security risks.
Hackers can position themselves between your child's device and the connection point. They can access information such as passwords, email addresses, and credit card information (if they are used to purchase apps or make in-app purchases). They can also redirect internet traffic to the device.
Home WiFi Security:  While public Wi-Fi is always a concern, parent should also ensure Wi-Fi connections on their home network is fully secure.