Top Online PDF Converters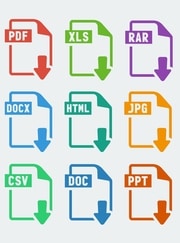 With all the different computer document types these days, it can be expensive to purchase multiple software programs to convert your files. Whether it be for work at home or for school, converting files is often needed for the purposes of editing.  A popular document that people often need to convert is a PDF.
Once created, a PDF can't be edited unless you get a PDF editor or convert it to Word. The top online PDF converters will also allow you to convert your Word document back to PDF. Besides the fact that PDF's are permanent, they can also be posted online for others to use and download.
PDF file ends with the extension .pdf, whereas a Word document ends with .doc or .docx. Any PDF can be opened using the free Acrobat Reader software, but that program can't edit them.
In this article, we will give you four online PDF converter tools that you to use. These online converter tools will save you from all the hassle of having to retype your document in order to edit it.
PDF Bear
If you are looking for an online converter tool that can convert a lot of file formats, then PDF Bear is what you are looking for. PDF Bear is not only a PDF converter to Word, but it is also able to convert your PDF files to other file formats such as PPT, JPG, Excel, HTML, and so much more.
PDF Bear is a free online converter that wouldn't charge you for its fast converting process. You don't have to worry about your file being compromised by other users as your files will be deleted if they detect an hour of inactivity. You are assured that your documents will be safe and secured. So, if you need your files to be converted, then PDF Bear is what you need.
Canva PDF Converter
Another useful tool to consider is the Canva PDF Editor. This powerful converter allows you to transform PDF documents into PowerPoint presentations seamlessly. With Canva's user-friendly interface and a wide range of design features, you can easily convert from pdf to ppt and customize your converted files to create visually stunning presentations.
Whether you need to repurpose content, share information, or deliver engaging slideshows, Canva's PDF Converter can be a valuable asset in your toolkit.
Wondershare
A powerful online converter can't be left off this list is Wondershare PDF Converter. This converter is very easy to use and has a user-friendly interface that would let you convert multiple file-formats without hassle. With this converter tool, you can separate certain files into different file formats and merge them into one document.
If the PDF file is protected by a password, you will only have access to it if you enter the correct password. This converter stands behind its name Wondershare because it always gives you high-quality conversions with just a few taps on your device. When talking about features, it is safe to say that this PDF editing software has features that are considered to be among the best.
Soda PDF Converter
Soda PDF Converter is also a considerable converter tool. It is well known for being accessible using any device or from anywhere or anytime you want. You can edit, annotate, create PDF files, convert PDF to Word or read on any of your devices or online. You can choose anything you want that works for you.
One amazing thing to note about this converter tool is that it is extremely easy to convert documents using this. All you have to do is just upload the document you want to convert or just use the drag-and-drop feature. Then, pick whichever file format you want to convert it into, and let the tool do its magic for you.
Small PDF Converter
Even though it's called Small PDF Converter, you shouldn't let it fool you. Small PDF Converter gives you a lot of handy features free of any charge. It is also very easy to use and very convenient, especially for beginners. You don't even have to download anything or register an account.
You just have to go to their website and upload the file you intended to convert into another file format. Once the conversion process is complete, you can do whatever you want with the downloaded file. You can edit, annotate or download it on your device or send it on your cloud storage such as Dropbox or Google Drive.
Takeaway
We hope that this list helped you in finding the perfect online converter tool for all your conversion needs. These are just some of the PDF to Word converter tools out there, and you can search Google for more. Just remember to do your research to ensure any online software program you are using is safe. These tools are very easy to use and is truly a convenient way of converting your documents into other file formats.
PowerPoint Tips for Teachers: Best 10 Tips to Create Engaging PPT