Top Safety Features Every Playground Must Have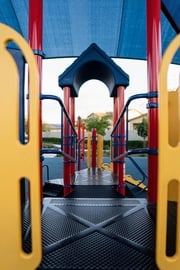 A playground is a promising setting for kids. It is known to offer emotional, social and physical benefits to all age groups. But it could soon turn into breeding grounds for injuries without proper planning and maintenance. This can influence parents' willingness to take their children to the playground, since it will impact their perception of safety.
Most caregivers look for a whole range of features to ensure that kids are protected against unfortunate events during outdoor play.  They also want to feel confident that kids are protected at school when only a small number of supervisors are monitoring activities on school grounds.
Therefore, it is important to ensure that faulty structures and improper surfaces do not ruin the fun and create risky situations. The good news is that there are ample preventive measures that can minimize such hazards. They can make sure that community parks and school playgrounds are solely identified as places of adventure, joy and imagination.
Here's what you can do as a responsible park authority or school administrator.
Safety Surfacing
An appropriate surface under equipment is a good way to reduce injuries due to falls. Pick materials that are certified to meet all applicable ASTM standards like F1951 and F1292. The best safe surfacing options include loose-fill solutions, engineered wood fiber, and loose-fill rubber, turf, bonded rubber and poured-in-place rubber. Kids might still get hurt but the injuries will not be as severe as a fall on to a concrete surface.
Shade Structures
Constantly playing under the sun can lead to a multitude of complications. The most common is sunburns. It can cause painful skin reactions due to ultraviolet (UV) light exposure and major damage like skin cancer over the years. Precautions should be taken to protect children from sunburn.  Wrinkles, premature skin ageing, itching and blisters are also possible. Kids can also experience weakness, confusion and faintness due to excessive sunlight exposure. Shade structures can come to the rescue. Pick from hip shades, sail shades, umbrella shades and cantilever shades, according to the existing style and theme of your playground.
Age-Appropriate Play
Separate areas are vital to accommodate children of different ages. A little one who has just learned to walk might not be able to cope with high-energy older kids. Pushes, pulls and clashes might end up hurting both groups. So, create separate enclosures to increased playground safety. Consider investing in different play structures made for infants, toddlers and adolescents. These usually are designed with distinct colors, gears, heights and mirrors. They help to develop sensory and communication skills and achieve different childhood development goals.
Proper Lighting
Dark and isolated areas are good opportunities for crime. Consider bright lights to help parents monitor their children from a distance. Consider LED lamps and streetlamps. You can also consider high-intensity sports lights in urban parks. They can ensure safe play at night. Glow-in-the-dark lights are also ideal along trails. Well-lit playgrounds are safer and more appealing to parents.
Encourage caretakers to keep an eye on the children at all times. They must also notify the local ground operator about safety concerns as a means of preventing playground injuries. Further, children should not wear clothes with drawstrings and chords to avoid the risk of strangulation during play.