Top Screen Recorders to Record Lectures and Online Courses Safely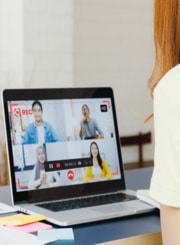 We are living in a modern era where most businesses have become digital. In the last few years, we have seen many instructors giving online classes to their students.  Any student who wants to learn any skill online will surely evaluate the course before enrolling in it. Those people who make high-quality courses with detailed information get maximum course enrollments.
To serve the courses or lectures online safely, we need to record them before uploading. Many people use PowerPoint presentations or some practical guides in their classes, and to record them efficiently, they need a screen recorder.
If you are also planning to make an online course and looking for a screen recorder, you are at the right place. This article will show you the top 3 screen recorders to record lectures and online courses.
How do Screen Recorders work?
There are a wide range of screen recorders available for windows. Most of them are paid, while some offer free features. They are becoming essential to make the most out of your online courses or classes.
A screen recorder is software that allows you to record anything displaying on your screen. Every screen recorder has its unique features. Before looking at the 3 best screen recorders, let's look at what to consider before choosing any screen recorder.
What to Consider in a Screen Recorder
Before choosing a screen recording software, do consider the following things for efficient work.
Make sure that the user interface of the screen recorder is not much complex, and you can easily use it
Check if you can customize your screen area for recording either full screen or any specific part of it
Screen recorders with some basic video editing have a slight edge over other
See if you can integrate your microphone with the screen recorder
Always check the quality of video produced by a screen recorder
Best Screen Recorders to Record Lectures and Online Courses Safely
Based on all the necessary features to record a PC screen safely for kids, we have shortlisted the 3 top-performing screen recorders.
1. iFun Screen Recorder
The first screen recorder on the list that I also use for my YouTube videos is the iFun Screen Recorder. Although it is an free screen recorder, it is easy to use with all the premium features usually found in the paid screen recorders.
iFun Screen Recorder permits you to either record the complete screen or any portion of it in a high-quality resolution without any watermark. To protect your copyright, it also allows to edit your personal watermark. You can also record your audio and attach a webcam for a more professional look.
Besides recording your screen, you can also edit the video and directly upload it to your social media profiles. All such impressive features make the iFun Screen Recorder the favorite choice to record online courses.
2. EaseUS RecExperts
EaseUS RecExperts is a screen recording software that allows you to record your screen easily with just a few clicks. The software offers a variety of features that makes screen recording easy and fun. With EaseUS RecExperts, you can record your screen in high quality, edit your recordings with the built-in editor, and share your recordings with others easily. The software also supports a variety of languages, making it a great choice for those who want to use screen recording for language learning.
With its simple interface and powerful features, EaseUS RecExperts is a great choice for those who want to record their screen easily and efficiently.
3. Movavi
Movai is a screen recorder with audio that record screens and system audio. It also provides the ability to grab sound from the speakers and microphone.  Record only audio if you choose or create screencasts.  Capture webinars, your webcam, or online calls.
Individuals will find this screen recorder easy to operate for personal use, including students.  Teachers will find it user-friendly when creating educational videos and custom videos for teaching.  Use recordings for video creation when you combine with Movai's Video Editor Plus.
There is a free download with upgrade options for a low annual fee. There is also an option to pay a slightly higher lifetime fee if you don't like subscriptions.
4. Clipchamp
Clipchamp is an all-in-one online video editor and video maker which includes a video compressor, converter and screen recorder.
Just click the record button and then choose a tab, window, or screen to record. Once done, you may simply drag the recordings into the timeline for trimming or editing.
You can add text, effects, and music and combine, crop, and control the speed. The final recording can be downloaded at 480p for the free version without watermark and can be shared across all social media platforms.
5. Camtasia
Camtasia is a video editing software for windows that comes with a built-in screen recorder. Like other screen recorders, it allows you to record either full screen or any part of it.
While recording your PC screen to make instructional videos, you can either include or exclude the microphone and webcam. You can do basic to pro-level video editing in this software.
Although this screen recorder has fantastic features, you have to pay the money to use this software. Not everyone prefers to buy a screen recorder when a free screen recorder is already available. That's why the iFun Screen Recorder leads this software.
6. OBS Studio
Whenever you talk about the screen recorders for Windows, you can't keep the OBS studio out of your list. It is the advanced screen recorder that allows streaming as well.
This screen recording software is also free, and you can also record your audio along with the screen.
This recorder is not recommended for beginners to record the lectures. Its user interface is somewhat more complex as compared to other free screen recorders.
Final Verdict
All the screen recorders listed above can be used on windows. There are some online screen recorders, but you need an active internet connection to work with them.
You can choose any screen recorder, but we recommend the iFun Screen Recorder as the top screen recorder to record lectures and online courses after comparing all the features.
Additional Learning Resources:
Engage students with these top 10 PowerPoint tips for creating captivating online presentations.

Explore this step by step guide of how to create time lapse videos from photos in CapCut.