A Guide to Tablets for Schools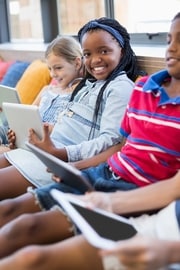 These days you don't need a full laptop for the purposes of education. A lot of the educational software that your child will use is delivered over the Internet as Software-as-a-Service, meaning all they need to access it is a browser. As a result, the lighter, smaller form factor of a tablet makes a lot of sense as the companion to their classwork.
The excellent battery life and comfortable user experience of tablets make them an easier choice for education. However, there are a number of considerations to make when shopping for a tablet for school use – cost, durability, performance, and versatility are all core considerations. With that in mind, here are some of the top tablet picks for Australian students moving into the new year:
Amazon Fire HD 10
The Amazon Fire HD 10 is a few years old now – the model was first released back in 2019, but it remains one of the best choices for any application. It offers solid performance, a good battery life, and a high-quality screen, which makes it ideal for reading and the kind of lengthy study sessions that students get up to.
The only downside is that the device has a mediocre speaker and camera – which can be an issue for video calls – especially if your child is working from home, or in group projects with their classmates – and has a limited app selection (though that's less relevant into the device's value as a study device).
It's important to note that if you purchase a tablet that has an operating system that is specifically for kids, then you may not be able to run apps like Netflix or Disney Channel for their after work entertainment. However you could solve this issue with a streaming device if you wanted to.
Apple iPad/iPad Mini
The gold standard in tablets for a reason, the Apple iPad and iPad Mini have it all-powerful processors, pristine displays, excellent security, a massive range of apps and they're incredibly easy to use and well-supported with accessories like pens and keyboards. The iPad Mini in particular is also as light as a feather.
The only downside to all of this is that these devices are expensive and, depending on how rough your child is with their school equipment, you might not want to be replacing these frequently.
Lenovo Tab 4 8
Lenovo is a brand synonymous with work computing, and Tab 4 8 lives up to those expectations. It's not the most flashy device, but it is affordable, offers good performance, and, most critically, has excellent battery life. Students need their devices to be genuine all-day workhorses, and Lenovo has focused on delivering that in its products. The cons to the Tab 4 8 are that it has poor camera quality and lacks dual-band Wi-Fi, so it's not up to the most demanding online applications, but then again, your child won't likely need to worry about that.
Samsung Galaxy Tab A 10.1
Samsung is running second only to Apple as the prestige brand for tablets, and the Galaxy Tab A 10.1 is a good example of why. It's much more affordable than Apple products, but features a long-lasting battery, makes use of lightweight metal to keep the weight down, and has a luxurious 10.1-inch HD display.
Additionally, unlike many other tablet manufacturers, Samsung knows its cameras, and the Tab takes excellent photos. The only downside is that it only has 2GB of Memory, which will make higher-end applications like video editing a challenge for your child.
Lenovo Yoga Tab 3 Pro
Another Lenovo! This one makes the list because its unique features are almost perfectly aligned with school work. The big "trick" of the Yoga Tab 3 Pro is that it has a projector integrated into it. That means that your child will be able to do classroom presentations directly from the tablet.
It's also a robust device designed around multimedia, which is useful in modern classrooms with the amount of video and imagery they work with. The only downside is that it is quite heavy thanks to all that technology built into it.
Microsoft Surface Go 2
Microsoft's tablet is an expensive one, but that makes sense when you consider what it offers. It's the full PC experience with a tablet form factor, and even has a "cover" that doubles as a keyboard.
The Surface Go 2 has all the power that your child will need for work and for play (just watch the hours spent gaming instead of working!), comes combined with pristine clarity on the screen, and has some powerful chips underneath that can handle any task thrown at them. It's also built by Microsoft for the working environment, so has all the collaboration and cloud tools that your child will need to succeed.
Final thoughts
There is an almost endless range of tablets to choose between, to suit every budget, however, it's important to find the right one that will help your child with their own specific educational outcomes. It's a good idea to talk to teachers to learn exactly how computers are used in the classwork and then, armed with that knowledge, search out a tablet with a feature set that best matches those workloads.