Helping Your Child Discover Their Career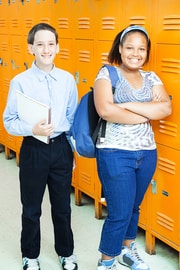 It's customary to ask our kids, "What do you want to be when you grow up," before they can truly conceptualize what "work" is; however, it's unequally customary to provide our children with the guidance they need to achieve their adolescent goals.
Take our economical state into account- success is more obtainable after receiving your college degree. As often as we ask our children about their desired future and career motives, are we encouraging them to visit their guidance counselor, helping them search for internships, and network? The hiring market is up in the air, but we can still help our kids find their way to a successful future.
Career Choices
If your child is a science, tech, engineering, or math guru, you'll be happy to know that 8 in 10 of the fastest growing jobs for college graduates are STEM-related.
Don't fret- there's also a giant market for students with other skill sets. In fact, 93% of employers agree that having soft skills are more important than completing "majors," and believe a liberal arts education instills skills to help our children succeed in the workplace. These skills include problem solving, communication, and critical thinking. This is why 4 in 5 employers want hires with a broad knowledge of liberal arts and alternative sciences.
College to Career
In short, preparing our children for success in a career means preparing them for college. Find what your child is interested in, and career-build from there. Be sure not to wait – 54% of new graduates considered themselves underemployed and struggled to find the right job or internship in 2017. More unfortunately, graduates have faced difficulties finding successful internships from 2014-2018, and steady unemployment/underemployment has only risen from 2000-2018.
Infographic Guide to Careers
Allowing our children to be left behind is not an option. Gain more information on preparing your child for college and career.
Reading Resources