How to Teach Classes Online | A Guide for Educators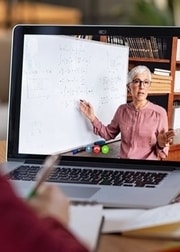 From being a choice to becoming the only option for education throughout the world, eLearning has helped millions of students and tutors connect in virtual classrooms.  As schools and colleges return to normalcy again, the use of online teaching and learning remains to be significant.
Students, teachers, and educational establishments, who have learned the importance of online learning alternatives, may want to explore new ways to enhance traditional teaching methods.  In addition, regular home schoolers, teachers or tutors online may want to grow their skill in this area.
Are you one of the progressive minds?
Online teaching is not reserved for schools and colleges alone. Millions of skilled people have already been teaching on the platforms like Udemy, Coursera, Khan Academy, etc. It's time for those who feel overwhelmed by online teaching to put themselves at ease and discover new methodologies.
I am certain that most teachers who taught online in the pandemic never wanted it. It can be unsettling not being able to connect with students in person. However, many progressive minds also got a taste of eLearning and it wouldn't be surprising if they start considering online tutoring as an addition to their skills:
Virtual classrooms, recorded lectures, digital learning materials, and online quizzes, etc. can make great additions to regular teaching routines, while they could also be used in blended-learning methodologies in the regular classroom sessions, too.
If you are a teacher who feels overwhelmed by the pressure to engage students online, or if you are looking to learn how to teach online on your school's platform or some eLearning marketplace for added income, this post will offer you some useful insights on how to get started.
We will look into tips from professional eLearning experts, different online tutoring software that you can use, and how you can start your journey as an online tutor with limited experience.
What should you know about online tutoring as a beginner?
For those who are used to usual teaching environments, online tutoring could be a strange experience. Even a tech-savvy person could take a significant amount of time to teach themselves the best way to be a virtual instructor. However, with some simple strategies and groundwork, it's possible to not just survive but also thrive as an online tutor.
Keep in your mind that:
You are not alone– there are thousands of educators like you who are trying their best to streamline ways to engage students online. As schools and colleges shifted to the online mediums, thousands of teachers got the taste of online tutoring for the first time.
You are still the subject expert: Be it your school classroom or a virtual classroom, you are still the subject matter expert, mentor, and regulator of your class. Summon your confidence knowing that you have the skills and experience to do the job, irrespective of the platform.
Don't rush into applying everything: It can be overwhelming to try everything that other experienced online tutors or teachers are doing. Start with the simple stuff. For example, you don't have to start doing instructional designing and create automated workflows in the beginning. Start with simple live streaming of recorded lectures, which you can also script and edit in advance.
How to create digital study materials?
The types of digital/online learning resources that you might need depend on whether you want to teach in 1-to-1 or group environments. However, some learning materials are relevant in all types of settings:
Live streaming: You can live stream your audio/video lectures.
Recorded videos: You can record, edit, and prepare video instructions.
Visuals: You can include drawings, maps, gifs, charts, photos, and screenshots.
Written materials: You can use written materials like Docs, PDFs, PPTs, Spreadsheets, etc.
How to put your study materials online and share them with students?
You can either use improvised ways or dedicated eLearning solutions to take your study materials online:
1.  Improvised tools:
Cloud Tools: Create text documents directly on Google cloud tools (docs, sheets, forms, assignments etc.). You can share these e documents directly with the students using their Gmail ID.
Videos: Upload and share recorded lectures on video sharing platforms like YouTube, Vimeo, Daily Motion tec.
Real-time: Use free video conferencing and collaboration tools like Zoom, Skype, Google Meet, Google Classroom.
On-premise tools: Create your documents on Microsoft office, WPS office, or LibreOffice, etc., and upload on a cloud file sharing platform like Google Drive, One Drive, or Dropbox, etc. You can also convert your documents into PDF by simply saving them with the extension. PDF or using a PDF converter tool. You can share such documents with the students by simply using their email IDs.
2. E-Learning tools
All of the above-given tools are either free to use or offer free trials. An improvised combination of these tools can be used for creating study materials and sharing them with the students. However, if you want to make it professional, you can rely on dedicated online tutoring software solutions that offer consolidated ways to create and share online courses seamlessly.
You can use such tools to:
Create courses and instructional designs.
Share courses and perform access control.
Track and manage learning progress.
Sell courses for revenue.
Please note that these tools are paid. So I don't want to name any specific brand. Your school or college might already be using such a tool or LMS (learning management system).
In case you are looking for such a tool for selling online courses, search for online tutoring software on the internet, and take your pick as per your unique requirements. For example, if you don't want to take live lectures, you can skip a live tutoring software and go for a self-paced course management tool.
How to stay connected with the students?
If you are using an online tutoring platform/software, you can use on-site communication tools like live chat, discussion boards, direct messages, etc. to connect with the students. However, if you are improvising your way, there are still many ways to stay connected with your students:
Email
Internet messengers- Skype, WhatsApp, Signal, etc.
Third-party collaboration tools: Slack, Trello Board.
Third-party Forums and discussion boards: Facebook groups, Sub-Reddit.
How to track the learning progress of students?
Since you might not be able to have face-to-face sessions, you wouldn't be able to know if your students are tagging along. It's important to understand your students' requirements and accommodate your strategies, which you can do by tracking the learning progress of your students via digital mediums. You ask your students for feedback, quizzes, and polls using an LMS software, or standalone tools like Google forms, Survey Monkey.
What other tools can be useful?
Besides the tools given above, you can also use the following tools for an assortment of resolves:
Canva: For creating documents, slides, and infographics.
GIMP: Free image editing software.
OpenShot: Free video editing software.
Audacity: Free audio manipulation tool.
Awesome: Screenshot and screen recorder tool.
Team Viewer: Desktop sharing software.
Get going with new ways.

Teaching is a noble profession. Only those in education can understand the efforts a teacher or tutor makes to deliver the best of his or her efforts. Change is always tough, but an entirely new way of teaching can be overwhelming. If you too have been struggling, or see someone struggling, I hope these little tips and tricks help.
Review online teaching opportunities.