Is Omegle Safe for Your Kids? Complete Guide for Parents!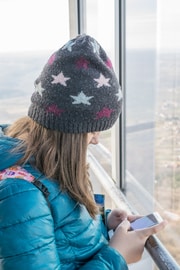 Omegle is basically a free platform used for chat or video messaging with strangers. It is one of the anonymous platforms that connects users with strangers. In the last few years, Omegle has been used as a dating application by adults. This might seem exciting, but obliviously consists many risk factors.
Although a popular platform created many years ago, Omegle is not widely known to most parents. Most of the content you can find on Omegle is not appropriate for kids, and very few safeguards are present for protecting minors. Many predators can be found on this platform, who might get into contact with your child.
After hearing about this platform and how it works, many parents prefer to block the application immediately, or ban their children from using it. However, many children still tend to use the application and can expose them to hazardous situations. For ultimate control and protection, parents can use parental control applications to stay aware of what your kids are doing all the time.
How does Omegle work?
Omegle provides a means for communicating with strangers. In most cases, users can talk only two-way. The platform is accessible from a desktop or mobile web browser or via an Android app. Users need to download the Android APK file to use the app as it does not appear in the Play Store. Instructions for iOS are available, but they only show how you can add the Omegle Online site to the home screen.
Omegle has two leading websites, which can be found by conducting an online search. The first contains instructions regarding using the platform, while the second is the online chat platform. On the bottom of Omegle, next to the options for chat, it states: By using Omegle, you agree to its terms. You must be at least 18 or 13 with parental permission. However, no mechanisms are found to prevent minors from accessing the site. To use Omegle, you need not to sign up for an account.
As a result of user reviews, the person who uses the app could be exposed to some creepy content such as traumatizing images and videos, violence, and explicit materiel, regardless of how the app is accessed. Omegle has many options to start a chat, though neither website lays out these options. Every time, you are connected with a random person. There is no information on how the match selections are made by the application.
Adult
A warning is placed in the area marked 18+, "Video is monitored. Keep it clean!" and has two options: Adult and Unmoderated Section. This label may be confusing, but the label 18+ probably tells that both sections are only for adults. By clicking on Adult, you will be prompted to go to a website which contains sexually explicit content.
The user confirms that they are 18 years old by clicking OK, but nothing prevents a small kid from doing this. A user hitting OK will automatically be redirected to the video chat area of the site having two webcam displays (their own and a stranger's). Generally, the stranger may show live or recorded adult content (typically pornographic) when the cams autoplay.
Unmoderated Section
You will see a different pop-up stating that unmoderated posts have a greater chance of containing sexual content. If a user clicks through, they will be taken to some other dual-webcam area to choose either a Sex or Gay option, both of which leads to sharing sexually explicit contents.
Text
You can enter interest in the field below the section for adults. The following two options are Text and Video, which can be used by anyone over 13 (along with their parent's permission if you are under 13). By selecting the text option, you will open a regular message interface to chat with a stranger.
You should keep in mind that users know absolutely nothing about one another, not even their names or images. Child predators are not legally prohibited from adopting false identities to have friendship with your children. While this applies to other chat applications as well, Omegle's unique features of connecting users with random strangers, anonymously make it attractive to predators.
Both users can save and share links to the chat, which is supposed to be anonymous. In addition to IP addresses and ID cookies, and much other information which are not disclosed by Omegle will also be included in the saved transcript. However, an anonymous user's anonymity might also be praised if any personal information is mentioned.
Spy (question) mode
Users can ask questions to two strangers while observing the discussion (although they cannot participate themselves).
Video
This option takes users to a screen with two webcams, same as the 18+ sections previously discussed. According to Omegle reviews, this section is continuously monitored, but it is also possible for children to come across adult content quickly. A predator can also use an innocent conversation to lure you in here. Even their webcam could be covered to hide their actual appearance.
College student chat
The chat option allows users to communicate with other students. Because users are required to enter an email address provided by their college before using this feature, it is perhaps one of the safer parts of Omegle. However, this tool is only helpful for older teens and not your younger ones. You can be sure that Omegle will not misuse or sell your email address. However, please note that Omegle might tell your chat partner your college and vice-versa.
Is Omegle safe? How dangerous is it?
Omegle is linked to several significant concerns, including the following:
Predator grooming
Exposure to creepy material
Information disclosure
Access to private information, including messages and videos.
Predator grooming
Sadly, many predators are lurking online who want to exploit kids. The police have warned parents in many ways about predators hanging out on Omegle, which has been a hot spot for predators. This Minors can be exploited in many ways by predators using Omegle. Some predators "groom" kids by establishing friendships, possibly presenting themselves as someone else, such as another child of the same age, and then attempting to exploit the child. This has resulted in more than one Omegle lawsuit as victims seek justice and compensation.
Children can be frightened of complying with predator demands by observing their Omegle behavior. Upon gaining a kid's trust, they may tell them to take their friendship to another platform, requesting the exchange of creepy messages, images, or videos, or requesting a face-to-face meeting. A standard method of obtaining child pornography is through sextortion, which involves sexually explicit material as part of the extortion. Although the victim may not have provided any of such material, this strategy may still be employed.
Exposure to creepy material
Reviewers say that video chat features, such as appearing nude or performing sexual acts on-screen, have attracted the most negative reviews. This unavoidable exposure to creepy content is a concern shared by both parents and children. Children today are expected to be exposed to pornography by a young age, on average 11, in the age of modern digital technology. Although unintentionally witnessing a stranger perform sexual acts live is disturbing to some young minds, it's not for everyone.
Every parent and child should be aware of what the application is before using any platform. Omegle is known for having explicit content that cannot be avoided, so no matter what users are looking for, they might be exposed. There have even been instances where reviewers say they were exposed to child pornography, violence, and even bestiality.
Both law enforcement and reviewers question Omegle's video tracking effectiveness, though some video clips are monitored. The site says: "Understand that human behavior is fundamentally unpredictable and may not follow appropriate standards on Omegle." In another notice, Omegle suggests that users be extra cautious about using the site.
Furthermore, there are no controls to ensure that any adult from 13 to 18 is using the app with parents' permission, even though there is a rule prohibiting them from using it without parental consent. Some apps for teens allow you to set up an account by entering your birth date. Other apps require parental approval before creating an account. These apps provide parental control like the power to monitor the contacts.
Information disclosure
Exposing personal information is one area in which kids often lack judgment. Even though Omegle appears anonymous, children are surprisingly willing to divulge details about themselves, such as names, ages, birth dates, the place where they live and school they attend, and other personal details. The information contained in these sites can be hazardous if it ends up in the hands of hackers or child predators.
Users of Omegle text chat can remain anonymous until they give out any personal information. According to its website, you can chat anonymously unless you choose to tell other users who you are, and also you can end a chat whenever you wish. It is also important to note that either of the users can choose to retain the entire chat in some shareable link format.
Omegle's logs are saved indefinitely under a random ID created by the service assigned once we receive the chat text from the user's computer. It is then turned into an image, decorated with a beautiful arboreal backdrop, and saved. Other information will be saved along with the chat log, such as IP addresses, cookies, and other information. In other words, without a VPN, a user's real IP addresses might get exposed via text chat.
Users can easily capture screenshots or make recordings of the video when using the video chat feature. More importantly, the match is made between the two computers, so each of the computers must share its IP address with the other. The Omegle interface doesn't display users' IP addresses, but an individual with some technical skills should be able to figure it out. You may estimate a user's location roughly and perhaps even their identity using this type of information. There have been reports of users receiving threats after their chat partners discovered their IP address and exact location.
Access to private information, including messages and videos
Omegle servers are reportedly vulnerable to hackers gaining access to chat records. Hackers may use any information grouped with a person's name, social media handles, or exact address for indecent purposes, such as fraud, phishing attacks, online stalking, and even offline stalking. The victim could be harassed or extorted using creepy messages, images, or videos.
The following information is collected and stored by Omegle according to its privacy policy:
Data regarding each chat and participants' IP addresses, cookies, and timestamps.
All the full-text chat messages that users have saved.
For moderation purposes, images are captured from Omegle video chat sessions.
What you can do to protect your children on Omegle
Not any method of using Omegle that is truly safe for children. Even though some mature kids can decide to skip the content they don't want to go through, they cannot avoid the possibility that they will see some traumatic content. Users who skip too quickly have been banned, but it is still possible to skip content as the app implements bot checks. Consequently, your child has a more challenging time avoiding media that could cause them to feel uncomfortable.
Children are therefore better off avoiding the platform entirely to remain safe. Here are a few things you can follow if your child is curious:
Encourage them to use another app
First, try to access the app on your own
Use the app together with your child and discuss it
Make sure you're familiar with data security
Use the filtering options
Use a parental control app to block Omegle
Make use of a VPN.
Encourage them to use another app
Omegle has several main draws, including its anonymous nature and capability to talk with random strangers. The issues described above will also apply to other apps that are used to talk to strangers. Even though some apps may be good at monitoring content, it is still not good for kids to connect anonymously with strangers.
Your teens would do better if you directed them to reputable social media groups and online forums where they could connect with like-minded people more safely. This isn't to say that they are completely safe, and they indeed have their own set of problems, but eliminating the anonymity does help mitigate those risks.
First, try to access the app on your own
Omegle also has a lot of disturbing content that you may not wish to be exposed to. You might find it helpful to see firsthand what you're dealing with if you're permitting your child to use it (or if you already know they're doing so). Using the app, you don't necessarily have to communicate with strangers, but you can initiate conversations to find out who they are.
Use the app together with your child and discuss it
It is advisable to use this app with your child if you have no problem with the use of this app. This way, even if they haven't gotten to the actual conversations, you have guided them toward these. When they see anything that makes them feel terrible, you can speak with them about what they saw. Do they already use the app? Are you not having the control over their use of Omegle? Maintaining an open conversation about what they are discussing or viewing is the best thing you can do.
There is a good chance that your child wants to know much about the platform and wants to take a look. They could be exposed to indecent content even if they only spend a few minutes using the app. Some children may ignore it or feel uncomfortable and regret viewing or reading certain content, depending on their age. No matter what their reaction is, you should provide a place for them to talk about anything bothering them.
Make sure you're familiar with data security
It is vital to reinforce the need to keep personal data private, even though you've probably discussed this with your child hundreds of times. Do not let your child reveal personal details such as their names, ages, or where they live or attend school. They should know that even if the chats are purported to be anonymous, there are still ways a stranger can find out what they are doing.
Also, it is worth repeating discussions about the permanence of online data. If you use a screen recorder or screenshot app, you can make anything that happens in a video or web chat permanent.
Use the filtering options
The site offers the option of filtering matches based on interests. This may help eliminate some inappropriate content; however, it is not reliable. If "sex" is listed as a preference and the user enters a video chat, they are almost guaranteed to see strangers perform sexual acts live or attempting to do so by their partner.
Adding sports or gaming interests to your profile may increase your chances of chatting with a genuine individual. As a result, this can also be even more threatening for kids, as predators might use innocently sounded interests to entice youngsters.
Use a parental control app to block Omegle
Despite its terms of use, Omegle refers parents to third-party tools they can use to restrict their children's reach to Omegle. You can limit minors' access to harmful material by taking advantage of parental control protections available on the market.  For more information about these parental controls, see the sites offering information about this type of protection.
There are many excellent parental control apps available for mobile devices today. In this case, you can use parental control apps like MobileSpy, Bark, or FamiSafe. These are one of the most trusted applications so far. Although these controls may be effective for younger children, teens can often circumvent them, so having talks about the app still is a crucial step.
Make use of a VPN
It is highly recommended that your teen use a VPN if they are using Omegle. Their actual IP address will be replaced with the IP address of the VPN provider from the location selected by the user. By doing so, their partner won't be able to uncover their actual IP address from their chat activity since it will not be their actual IP address. Choose a VPN which offers leak protection to make sure the connection stays secure and your data does not escape.
Conclusion
One-to-one conversations on a stranger platform are risky. Children should be taught that the more information they share, the greater chance of predators misusing it. Omegle and other online games pose a threat to the online security of your child. Cybercriminals can target your kids with just one wrong click on these apps. You should block Omegle immediately to protect your child. Furthermore, you must keep an eye on your kids' online activities and protect them with parental control applications.
FAQs
What is the Omegle App?
The free chat website Omegle lets users connect with strangers without requiring registration. You can chat anonymously with random users.
Is Omegle safe?
No, there is no safety in it at all. Anyone can easily record your anonymous chats. A person on the opposite end of the webcam may expose the user. Omegle requires no registration, making it a potentially risky platform.
Who uses Omegle?
It is an online chat application that allows users to interact anonymously with strangers. You can use it with the consent of your parents if you are 13 years old. This platform is also used for nefarious activities by hackers, predators, and adults.
Is Omegle monitored?
From 2013, Omegle supervised every video chat session to avoid online misconduct. Children under 18 can still be exposed to harmful adult content since monitoring is only partially active.
Can I use Omegle on my phone?
Yes, Omegle can be accessed via mobile devices, but only text-based chatting is available. Using the website or other Omegle alternatives will let you use video chatting features.
Related Articles:
Learn about Mastodon, another app that your kids may be using that is unsafe with potential predators and harmful content.