The Benefits of ISP International Learning for Students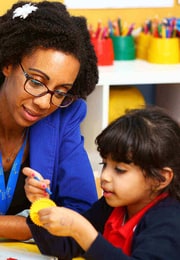 Parents get very concerned when it comes to making the perfect choice for their child's education. And it is only natural because finding the right one among 100 different schools is a very challenging task. As a parent, you would want nothing but the best for your child.
This is in all aspects: education, extra-curricular activities, environment, and so on. All these factors contribute to helping your child develop the best qualities.
However, the task becomes more challenging when you are a parent living overseas in UAE. You may not be aware of the country's standard and education system. So, allow us to make the choice easier by allowing us to walk you through what Reach British School has to offer for your child!
What Is Reach British School?
Launched in 2014, Reach British School is one of UAE's leading ISP international schools and is also a part of the International Schools Partnership (or ISP). They cater to all students between the ages of 3 years to 18 years (Nursery/FS1 to Year 13/Pre-KG to Grade 12).
The course of the curriculum followed here is the National Curriculum for England, which is known to be a benchmarked course all over the world. The primary focus of this institution is academics. However, they also motivate the students to get involved in cultural rigor challenges.
This allows them to excel in both areas, including their academics and personal growth.
In addition to this, Reach British School is also one of the very few schools to aid their second-year students by offering stunning scholarships!
By enrolling your child here, you can be guaranteed that they will get extraordinary international learning connections, quality assurance, and excellent governance.
What Reach British School Has To Offer
Now that you have a basic idea of what Reach British School is let us take a look at what the school has to offer in detail.
World-Class British Curriculum
As mentioned earlier, Reach British School follows the National Curriculum for England. This curriculum is focused and centered around the students and also challenges them to achieve more.
Professionally Skilled Staff
Moreover, the teachers at Reach British School focus on the all-around development of every single student. Before they start a class, the teachers carefully plan out their lessons so that every student understands the lessons.
Other than catering to just academics, they also cater to the child's emotional and social achievements.
The learning environment is one that is very social, stimulating, and organized. This way, the children get the best experiences in various challenges like teamwork, solving puzzles, project work, and so on.
All children are given awards when they overcome challenges which further helps by boosting their self-esteem and confidence levels.
Best Campus Experience
Give your child the best campus experience as they explore the heated 25m indoor swimming pool, spacious, well-ventilated classrooms, huge multi-purpose indoor sports hall, a superb astroturf football field, a multi-sports pitch meant for athletics, and a newly resurfaced central play area.
Additionally, they also have stocked up libraries, science labs, and ICT suites (also known as Information and Communication Technologies), interesting digital projects, and impressive school canteens!
High-Quality Health Services
At Reach British School, you can be guaranteed that your child's safety will be the main priority. This school has joined hands with the Health Authority of Abu Dhabi (HAAD) to provide the best health care services for your child.
The nurses in the school are trained to teach children how to live healthy, thereby promoting safety.
Healthy House System
At Reach British School, every child is taught to aim for excellence by improving their sense of team spirit. And that is why children are sorted in different houses to inculcate the habit of teamwork and healthy competition.
To practice this, the school organizes various competitions that are designed to test the child's physical, creative, and intellectual elements. Furthermore, this helps to promote creative thinking and collaboration among the children.
In order to do so, the school will give your child a house color right when they are enrolled. Not only will this make them feel like they belong with the community of the school, but they will also be able to win points for their house from day 1.
This way, they can bag a lot of appreciation and even stand a chance to get elected as the school's Primary Head, Primary Deputies, and Primary Lead Prefect!
Excellent Online Learning System
Given the current global situation, we understand that your child's health and well-being are a concern. And that's why Reach British School has started an excellent online learning system!
In fact, this school's online education system has received the highest rating by ADEK in all 13 areas! This is because even with online learning, Reach has maintained:
A clear focus on learning
Motivation for students to learn
Attendance and engagement
Sharing, connecting, and three-way communication
Real-life learning connections
Time management
Feedback and other steps
However, this has all been made possible thanks to our talented team of staff and the constant support of the parents!
Affordable Fee Structure
The best part about Reach British School is that the fee structure is very affordable. They are also very flexible as they allow you to pay the fees as an annual payment or in three installments.
They are flexible with payment options as well and they support your payment in the form of cash, cheque, online banking, and credit card. Moreover, if you have two or more children, you can even avail yourself of discounts of 5-10%!
They also offer corporate discounts for the following companies:
Etihad Airways
SEHA
Mubadala
Esaad
Why Choose Reach British School?
If you are looking to enroll your child in an exciting school with guarantees to help lay a strong foundation for a successful future, your best option is Reach British School.
Moreover, the school also has passionate English-speaking teachers who will give your child the best in academics but also offers a wide range of fun extra-curricular activities. All these combined are guaranteed to give your child everything they need for a bright future.
Additionally, they provide one-of-a-kind opportunities specially curated for secondary students along with scholarships.
It is also interesting to note that Reach British School is one that has been certified by the British Schools Middle East (BSME) and is also an active member of this community. Furthermore, Reach is also a part of the International Schools Partnership, which provides quality education for children across the country.
Final Words
We understand that as a parent, investing in your child's future is the most important thing. However, at Reach British School, the future of every single child, including yours, shines bright.
With world-class learning programs and skilled teachers, you can be sure that your child's path to success is one that is paved clearly. This is because our school delivers the best of tried and tested educational programs, which leads the students to enter established universities.
So, come and join us on our journey to help create a brighter future!