Protecting Your Child from Cyberbullying: Tips for Single Parents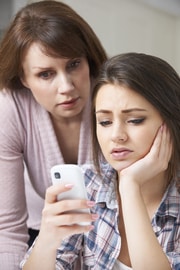 Due to the rapid advancement of technologies, our lives are becoming more digital. Even though the digital era benefits humanity in many aspects, the increased access to the Internet also leads to cyberbullying. If you are a single parent wondering how to stop cyberbullying for kids, make sure to read this article.
Learning the Basics of Cyberbullying
The United Nations International Children's Emergency Fund, also known as UNICEF, defines cyberbullying as "bullying with the use of digital technologies." Currently, cyberbullying covers a wide variety of online activities, including sending, posting, or sharing negative, harmful, false, or mean content about a specific person or a group of people. In some cases, cyberbullying can cross the line into unlawful or criminal behavior.
According to a report published by Pew Research Center, nearly 60% of children have experienced some sort of cyberbullying at least once in their lives. The thing is, the age-long problem of in-person bullying has made it into the digital world. However, cyberbullying is more damaging than traditional face-to-face bullying, as it can happen at any time, and there is no place to hide.
Based on the information provided by Ditch the Label, one of the world's leading anti-bullying organizations, cyberbullying most often takes place on social media platforms, such as Instagram, Facebook, and Snapchat. The main reasons why most people get attacked online are as follows:
Appearance
Academic achievements/intelligence
Race
Sexuality
Financial status
Religion
The Signs and Impact of Cyberbullying
Some children are ready to tell their parents they are experiencing bullying online, which significantly simplifies the process of providing parental help. At the same time, most kids are still too embarrassed or ashamed to talk to their parents about it. Therefore, each parent should be able to identify the main signs that their child is a victim. If you suspect something, watch for the following behaviors in your child:
being distant, upset, or angry after being online or texting
appearing more lonely or distressed
a decline in their school work
trouble sleeping
loss of interest in favorite hobbies
unexplained weight loss or weight gain, headaches, stomachaches, or trouble eating
suicidal thoughts or suicide attempts
Apart from this, what experts say about cyberbullying is that cyberbullying has a significant impact on a child's mental health and well-being. For example, if the child suffering from cyberbullying does not get appropriate help, it can lead to:
Depression
Anxiety
Low self-esteem
Eating disorder
Self-harm
Substance abuse
Best Ways to Help Your Child Handle Cyberbullying
If you don't know how to protect your child from online bullies, try to stick to the cyberbullying tips listed below.
1. Listen to your child without judgment and blame
No matter who initiates the first conversation about cyberbullying, parents should discuss the ongoing problem with their child calmly. Instead of freaking out, try to gently ask questions regarding the names of bullies (if known), the forms of cyberbullying used, and the length of time the cyberbullying has been a problem.
Also, do not blame your child if they have been hiding the truth about being cyberbullied for a long time. In fact, victims of online bullying may be scared their parents won't understand the magnitude of this problem. Let your child know that you are always here for them if they feel like they need to talk.
2. Help your child feel safe
What parents can do about cyberbullying is ensure their child feels safe. If you think that taking away your child's phone or computer to teach them about online safety can be helpful, you're wrong. This action can only alienate them from their peers.
To help your child build resilience, encourage them to block cyberbullies from contacting them. If the cyberbully still manages to contact your child somehow, they shouldn't respond or retaliate. Usually, people who use electronic communication to bully someone only want to get a reaction.
Finally, let your child know that telling an adult isn't tattling – it's standing up for yourself. So, if new episodes of cyberbullying occur, the child should be able to talk about it with a trusted adult.
3. Collect evidence
If the harassment continues, collect evidence that you can later show to teachers, the parents of bullies, or police officers. For example, make screenshots or recordings of conversations, messages, pictures, videos, and other items that demonstrate a full picture of bullying behavior.
If you consider taking legal action, speak with a lawyer, legal service, or the police about the type of evidence you might need to help resolve your case. Once evidence is collected, make sure to store it in a way that removes it from your child's devices. For instance:
Send the evidence to your personal device or email
Store the evidence on an external hard drive
4. Work with the school administrator
Presently, the majority of schools have a bullying policy, and most cover cyberbullying. If your child and aggressor go to the same school, contact educators who take responsibility for creating a safe environment for victims of online harassment through an investigation and appropriate response.
If reporting the incident to the school doesn't help you handle the issue well, step back and reconsider your options. Is the cyberbullying your child experience possibly a crime?  In the end, the last thing you want is for the problem to get worse for your child.
5. Report the online harm
Typically, social media platforms, games, apps, and websites have policies that help prevent and deal with harm caused by online abuse and restricted online content. Considering that cyberbullying violates the Terms of Service of all legitimate service providers, contact the content provider to inform about this violation.
f you manage to provide appropriate proof, the service provider will take action within 48 hours after the report has been submitted. As a result, the cyber-abuse material will be removed, and the person initiating cyberbullying will be blocked.
6. If necessary, seek counseling
If you don't know where to find help for reducing physical and mental harm caused by cyberbullying, try to find a well-qualified cyberbullying counselor for your child. Many victims of online harassment may be reluctant to speak out, which is why parents should play an essential role in motivating them to seek help.
If you notice any signs of anxiety or depression experienced by your kid, communicate with your child on the subject of cyberbullying. If the child agrees to receive psychological help, mental health counseling can be beneficial for them in areas such as:
Dealing with aggressive people
Learning to resolve conflicts
Managing stress
7. In case of a real physical threat of harm, contact local law enforcement
Sometimes, cyberbullying includes a realistic physical threat of harm. In this case, parents should contact county or state law enforcement officials immediately. After researching your state's cyberbullying laws and procedures, you can file an official report with the police.
In turn, the police are required to take appropriate measures to prevent new episodes of online harassment from occurring. For example, if the bully is anonymous, the police will try to track them down. If cyberbullying involves a credible threat or posting the victim's contact information to provoke physical attacks against them, the police might launch an investigation.
8. Encourage positive connections and coping strategies
Reassure your child they are loved and supported by numerous people, including their family members and friends. In addition to having open communication about your love for the child, encourage them to engage with interests like sports or dance that connect them with other young people. In this way, your kid can improve relationships with their friends and get acquainted with new people who share the same interests.
Moreover, if your child feels unsafe at school, offer to switch educational facilities. This decision can help your kid find new meaningful connections and build lasting friendships from scratch. Considering that changing schools exposes children to a wide range of new ideas and attitudes, it can be a perfect way to start a new chapter of life.
A Final Thought on Cyberbullying
If you want to learn more information on cyberbullying and options to address this problem, there are a variety of cyberbullying help sites that you can use to improve your knowledge on this topic. For example, you can visit government websites, such as Stop Bullying, Cyberbullying Research Center, and Connect Safely Cyberbullying.
by: Natalie Maximets
Natalie Maximets is a certified life transformation coach at OnlineDivorce.com. She has expertise in mindfulness and sustainability. She is a published author focused on the most progressive solutions in the field of psychology. Natalie helps people go through fundamental life challenges, such as divorce, and build an entirely new life by reframing their personal narrative.