The History of Father's Day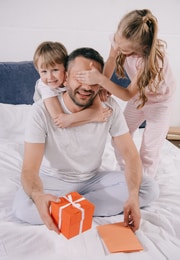 Father's Day is a day set aside to celebrate fathers or men who perform the responsibilities of dads to children. It is a special day for men.  Beyond a curiosity of Father's Day history you may also be wondering what you can do to make dad feel special this year.
First, let's explore its origin. Originally, the American first Father's Day was celebrated on June 19, 1910, in Washington.  Still, it did not become an official holiday in the United States of America until 1971.
It happened when President W. Wilson declared it to be celebrated officially.  However, another very special day for another family member came first.
Father's Day Had Help from Mother's Day
Mother's day was a galvanizing factor in catalyzing father's day. The Mother's day celebration was inspired in 1860's by the activist Anna Maria Jarvis, who was well known for her activism.
The campaign to celebrate the nation's fathers did not create the same excitement.  On July 5, 1908, a West Virginia church organized the nation's first event in honor of fathers. It was a Sunday sermon in memory of the 362 men who died in the December's explosions at the Fairmont Coal Company mines in Monongah, but it was only a one-time affair and not an annual holiday.
The following year, in Spokane, Washington, Sonora Smart Dodd attempted to organize a Father's Day analogue. She was the only child of a widower who raised her and her five siblings. Sonora made this effort through visits to local churches, shopkeepers, YMCA and government officials in order to gather support for this idea. Fortunately for dads she was successful.
On June 19, 1910, Washington celebrated the nation's first official Father's day in a state. Then, President Calvin Coolidge urged all states to celebrate Father's day as an annual holiday in 1924. Men scoffed at this and tagged it an attempt to sensationalize the roles of fathers. However, the celebration has continued to grow in popularity even among the naysayers.
Today, Father's day is celebrated every third Sunday of June in most countries.
Special Father's Day Gift Ideas
Father's day 2022 is a special day for dads. And if you have been wracking your brain trying to decide the particular gift that will show much you appreciate your father's special and unique parenting, then this is for you;
1. Customized 3D Photo Stand
Fathers like to decorate their desks with photos of their loved ones. This is a perfect gift for him. Every time he sees it, he realizes how much he is loved and valued by his family. This gives him a boost and even if he was having a bad day, it all suddenly changes.
2. A Father's Day Photo Book
As much as most Fathers like to behave like masculinity and sentimentality have no relations, who wouldn't be moved by a beautiful father's day photo book filled with memories that can induce nostalgia? No one. This may just be a perfect gift especially for a father who is a little less showy. He wants something about you but not necessarily something to put on display. A customized photo book may contain childhood pictures of yourself and your father taking him on a trip down memory lane or favorite pictures of you which you caption with the various reasons why you love your dad.
You could create a "first year with dad" photo book or create and share a digital photo book online. It contains pictures of the first year every child had with their dad. This serves two purposes; to celebrate the father and also as a sort of keepsake for kids who won't remember their first year. You could also record the milestones of a kid's life with their dads. Things like "first time crawling with dad", "first time walking" and so on, will be recorded here.
3. A Customized Father's Day Story Book
Fatherhood is really not easy and not as celebrated as it should be. For too long, mother's day has taken the grand stage. To correct this,  it is important that father's day gifts show the right amount of thoughtfulness and appreciation. A Customized father's day story book may be a great way to celebrate fathers. A customized story book may involve you taking the main character of a story and personalizing it in the form of your father. Who doesn't want to be the hero in a book?
Fathers in general, have been real life heroes in the life of their kids and therefore, deserve this honor.  Create a book for your dad celebrating his unique strengths and weaknesses making this father's day one of the best he has ever experienced. Create a story book for dad, make him the hero of the story, just like he is in reality and give him a Father's day worth remembering in 2022.
Father's day is a day worth remembering with fond memories and hopefully these gift ideas will help make it special for the dad in your family.
Father's Day Today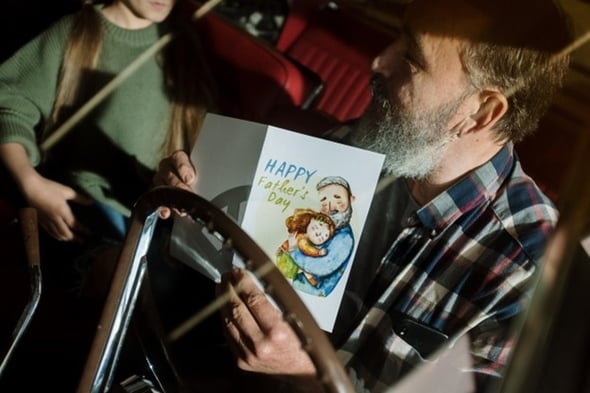 Although Father's Day began in the United States, the idea grew to become a popular day for dad in other parts of the world.  It is celebrated on different days in different countries. Many Latin countries celebrate is on commemorate it on St. Joseph's Day, which is March 19 of each each.  This is due to influence of the Catholic faith in those countries. In many Pacific countries like Australia, Father's Day happens on the first Sunday in September.
Whether you  showing your love to the father or father figure in your life on the third Sunday of June in The United States or Europe, or on a different day entirely, there is one thing we can all agree on.  Dad is special and we want to show how much we appreciate all he does for us.  For those whose father's have passed on, it is still a day we can think of him with fondness and remember the he person he was and continues to be in our hearts and mind.
Happy Father's Day!