Tips for Establishing Internet Safety While Co-Parenting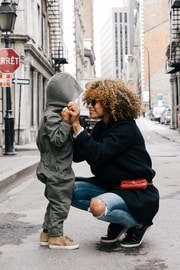 This world can be tough on kids, especially those with divorced parents or guardians that live apart. If that wasn't enough, some children also have to deal with a new world full of technology and tech-related challenges. To help with this concern, we would like to provide some tips for establishing internet safety while co-parenting.
While the online space does provide plenty of perks (educational software, easy communication with loved ones), it also creates a fair share of concerns. There is a lot of adult content online that your kids shouldn't see, and there is also the risk of cyberbullying. As co-parents, you both need to be on the same page, so your child is protected regardless of the roof they are under. Here are some guidelines to do just that.
Enact The Same Rules
When your child announces that they want to start using the internet, both parents have to sit down and go over the ground rules. Having the same rules in both homes is absolutely essential, so both parents are always aware of what their child is doing when cruising the internet in their house. Start by having a conversation with your kids about how social media works, how strangers can see personal information they share, and what information they should not put on their profile pages.
Both guardians also have to come to a consensus about where the computer or device can and cannot be used. For the youngest kids, it is a good idea to put it in a highly-populated space like the kitchen or living room when the parent is nearby. Younger kids should not be able to go online when their parents are not around. You also need to set limits for how often the kids can be online. A good place to start is by restricting usage to an hour of online time per day once their homework and chores are completed.
One way to ensure that your kids follow the rules set forth by both parents is by having them complete a child/parent internet safety agreement. Yours can mimic the example in the link as it should have similar guidelines, including what information they can and cannot share on social media platforms. It should also require that they inform their parents if they see anything strange or scary online. Put this signed form next to the computer, so it is a constant reminder.
Be Proactive In Their Security
It is essential that both co-parents are on the same page when it comes to putting the proper protections in place on your computers and devices so the kids can stay out of harm's way. The future of privacy will see many advancements, but also several issues as cybercriminals find new ways to take advantage of evolving technology. For example, new phones are always adding on cameras, GPS functions, and other perks that, while helpful, can also allow hackers to track your location and steal your data, which is not so great. As parents, you can only focus on what you can control, so work together and try these tips.
The best approach to protecting your kid from online dangers is by enabling internet safety tools on the devices your kids are using. Control settings are available on every web browser, including Internet Explorer, Mozilla Firefox, Chrome, and Safari. These add-ons allow you to block certain websites, control how long the internet can be used, and restrict sites that are known for creating virus and malware problems.
Parental controls should also be set on mobile devices. Android devices and iPhones both have settings and available apps that control how much your child can see when they go online. Once you have the software enabled, you can also go back and see what websites your kids have been visiting and modify their access as needed.
In addition to parental controls, both parents should check any devices their children use and ensure that they are equipped with antivirus software. If your child accidentally goes to a website where malware is present, hackers might be able to use it to access your device and steal data, passwords, or the contact information of your friends and family. To prevent this threat, install this software ASAP and run scans weekly to wipe out any viruses that might be present.
Dangers of Cyberbullying
We are in a new day in age where cyberbullying is becoming more common than ever before, especially for children. In fact, recent numbers show that 36% of kids have been cyberbullied at some point in their youth. Cyberbullying can take many different forms, from name-calling and harassment to cyberstalking across multiple platforms and devices. Sometimes it can be difficult to know when your child is being bullied, but there are some signs that something may be wrong, such as trouble sleeping, becoming more quiet and withdrawn, or having sudden violent outbreaks.
If one parent notices any of these signs, they should immediately speak to the other so you can come together to comfort your child and put a stop to the harassment. Inaction is not an option. Find out what sites or social media platforms they were bullied on and take pictures for evidence if you feel it is important to do so. Never reply to the messages. Just block the sender and alert the authorities if necessary.
Of course, the best defense is to be proactive as cyberbullying can affect a child's psyche. Tell your children that they should never share personal information online and if anyone ever asks for private information that they should report it to one of their parents immediately. Most important is building a level of trust with your children so they feel comfortable letting you know when they are put in uncomfortable situations, either online or at school. By nipping potential issues in the bud right away, you can prevent them from escalating.
While you may not be a traditional family, you are still two parents that love their children very much. Put that love into action by being a constant presence in your child's online life.
Additional Resources: