Top 7 Factors to Consider When Choosing a School for Your Kids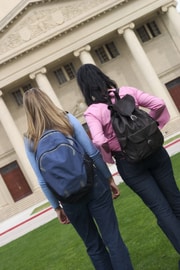 Are you a responsible parent looking to provide the best schooling and education to your children?  Do you know what are some important factors you need to consider when choosing a school for your kid?  Have you looked at the various schools, boards, and fee structures only to feel completely overwhelmed?
We all know how important it is to select the right school for your kids to help them with their academic journey. The right interest development in certain subjects can help create a favorable career option.
In recent years, both parents and kids are spoiled for choices when it comes to the sheer number of schools that have come up. However, with each promising to be better than the other, the task of choosing the right school can become overwhelming.
Given what is at stake here, there must be no margin for error when it comes to the decision. In this resource article, we look at some of the most important factors that need to be considered when choosing a school for your child.
Why Selecting the Right School matters?
For some parents, the choice of selecting a school is not that complex. In most cases, it is the government school that is within their zone. However, other parents feel that private schools are a better option. These private schools might be within the zone or outside of it. While if you are an expat in another country, choosing an international school might be best for you and your kid.
The right school embodies within an individual a direction. This direction is both in terms of the future academic foundations as well as career decisions that a child might want to take up once they finish the schooling.
According to experts, rather than the parents taking unilateral decisions based on what they feel is right, certain interests of kids matter too.
It is important that the school fits and aligns with the overall personality of your child.
Any school should play into the strengths of the child and allow it to further develop.
Every family has a certain set of values and the school should look to build on that.
When the interests of both children and parents match in terms of the school, we can say that the decision is a successful one.
List of 7 Factors to Consider when Choosing a School for your Kids
1. The Distance between the House and the School
An important consideration that needs to be taken into consideration is the distance between the school and the home. The shorter the distance, the better it is for kids.  How does the school manage their transportation system.  You do not want your children to be spending two hours traveling on the bus or will you as a parent need to drive them.
This is sure to cause a lot of stress to both the child as well as the parent. Shorter distances between the two can allow a child to utilize the time in other important activities. These can be both educational ones or extra-curricular.
2. The Educational Qualification and Experience of the Faculty
A school is only as good as the kind of faculty members teaching there. As a parent, you need to look at the faculty profile and see the kind of experience that they have. Higher educational qualifications and experience automatically mean that the standard of education will be good.
Additionally, you should also look at the attrition rates of the faculty. Experts recommend that a period of four years on average is a good period to understand how good the school is in terms of retaining its faculty. This is a sign that the teachers are satisfied at the school.
3. Scope for Development of Extracurricular Interests
A lot of parents these days are open to the possibility of their kids pursuing professional activities other than education. This means that they want a school that can give their children the exposure to pursue extra-curricular interests like sports, theater, and others areas.
Having a strong extracurricular program also ensures that the physical development of students carries out. Over a period, a child can develop an interest in one such activity and choose to pursue it professionally. Some schools have a strong sporting culture which is a great benefit.
4. The Ratio of Students and Teachers in a Classroom
Every parent wants to ensure that their children get undivided attention at all times. This is only possible when the ratio of students and teachers is low. For example, experts recommend that the ratio of teachers and students in a classroom should be no more than 1:20.
The lower the ratio, the better can be the level of personal attention that can be expected at the school. Most kids when they are unable to get personal levels of attention can become introverts. It prevents them from raising questions about areas that are unclear to them.
5. The Educational and Extracurricular Infrastructure of the School
All parents want our kids to go to schools that are better than the ones we had gone to. This means that we would want that the infrastructure of the school should be great. School safety measures should be in place.  School buildings, classrooms, playgrounds, and other areas should be open and large.
You do not want students to feel suffocated or get injured because of rusty chairs and tables. Good schools invest a lot in terms of their infrastructure. The rise of smart classrooms also requires sizable investments. All this makes for a great learning environment for kids.
6. Fees, Affordability, and other Economic Considerations
There is no doubt that fees are one area that forces most of us to start rethinking our decisions. As parents, we need to think about whether we will be able to afford the fees not just now, but right up until kids finish their schooling (10 to 12 years).
Student fees are not the only area of expenditure parents should worry about. Schools these days take additional fees in the form of several other heads, some of which are not so transparent. Parents need to go for an affordable option to ensure they do not have to change schools.
Families working abroad may want to consider an reputable international school with ISP Learning opportunities.
7. The Educational or School Board that is Prevalent
Last, but by no means the least important consideration that should be made is the School Board. An easy decision is to go for a school that follows the recommended Government Board. An alternative would be to go for an International Board that follows a set curriculum.
Parents that are on the move would prefer an international school that follows the Cambridge Curriculum. Choosing a board will come into play later on, especially if you are looking to make your child sit for competitive examinations.
The Bottom Line
The quest of finding the right school for your kids is probably one of the toughest decisions you will make as a parent. The start of a child's academic journey needs to begin with the best. It does matter whether you send them to the best preschools or public schools.
If you have any more questions that you would like us to answer or discuss, please write them down in the comments section below. We will try our best to request our experts to help you out to the best of our abilities.
---
Consider how finding the right school for your kids coincides with finding the ideal property within the best neighborhoods for raising a family.