Educating your Kids on How to Save Energy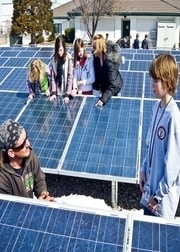 When it comes to teaching your children, some things are easier than others. Teaching your kids to be nice to others and to eat their food before dessert is basic, but showing your progeny what electricity is, how it is used, and how they can save it is more difficult than teaching them other things.
However, with kids leaving lights on, playing video games all day, and leaving their electronics on, many households can save money by simply teaching your kids to conserve energy and work towards raising sustainable child.
The Basics
If you start with talking about the basic of electricity, you can slowly teach your kids what they need to know about energy and how to save it. Explain to your kids that everything that plugs into the wall uses electricity and that leaving these things on costs money.
There are a few ways you can illustrate this point to your kids. Turning off the lights and turning them on and showing them that for the lights to come on, you need to pay for power. It is also helpful to make distinctions between objects that plug into the wall and objects that do not according to MoneyPug, a site used to compare energy prices. This is one way to make sure the connection between electronics working when they are plugged in and not working when they are not. Once your kids understand the fundamentals of electricity, there are many ways to make it fun and educational.
Make a Game Out of It
Making a game out of teaching your kids to conserve energy is one of the best ways to get it done. Not only is it one of the most effective, it is one of the most fun. When you show your kids that different objects require electricity and others that don't, quizzing your kids can help them figure it out while making it fun. Show them a razor and an electric buzzer and ask them which uses power.
Another way to do this is to show them a broom and a vacuum to explain the same point. So do lightbulbs and candles. Video games and board games. You can have your kids play a game to see who can save the most energy. Whoever wins can get rewards. Children everywhere like competition. When you create a game out of conserving energy, you will be able to make the efforts fun.
Creating an Educational Environment
While making a game out of energy conservation can be fun, you can also make it educational. If your kids are curious or like to learn, it is great to make your environment educational. There are so many options to help you figure out new ways to help the household save money on energy costs. You can use educational material that will provide new tactics and techniques to saver power and teach your kids good habits.
You can even find educational materials that provide month-to-month tools. Each season has benefits and disadvantages. You can learn how to conserve in the winter and how to get the most out of your savings in the summer. This could help you teach your kids how to understand what is important and what isn't.
Another way to make it educational is to do activities with your kids to show them ways to conserve. Make a project out of building a household wind turbine. Take them to the store for solar panels. Do daily checks to see if things are on and what can be unplugged. When you are teaching your kids, you can make this whole process fun and educational.
If you are trying to show your kids how to save energy, you need to speak to them in their language. Kids are particular and they need certain things. Households in the West all need to conserve more energy and work towards sustainability. You will save energy will not only help you save power and money, it will teach your kids to be better people who live consciously. There are many ways to do this and when you are conscientious, you will have many more tools at your disposal.
Read about saving energy in the home using smart technology.