The Best Place in the World to Live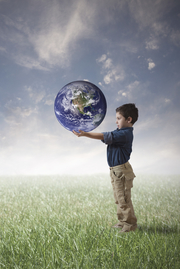 People are always grumbling about the weather. Many think that life would be so much better to live if only they moved to a better place. The fact is, every place is both the best place to live and the worst place to be, depending on the time of year. Let's take a little trip. Grab your globe or a map of the world and buckle up.
Many people in northern climates dream of living on the equator. After all, they say, life would be so much better without cold and snow. Rainy season in Mexico can last from May to November. That's seven months where outdoor activity is sloppy and wet. When the rain stops, the world blooms in green and flowers that would shame a rainbow. The lush growth makes places like this a wonderful place to live—after rain season, that is.
All up and down the southern Atlantic coast (check your map) is where you find hurricanes. They are the wicked monsters of weather, blowing cars and homes and even chunks of bridges up in the air. Millions of people have to live with damage caused by hurricanes each year. Most of the damage is in places known for hot, pleasant weather, like Florida, Puerto Rico, Haiti, Central America and the east coast of Africa.
Maybe you've longed to live in someplace known for easy, comfortable climate, like, say, California or Switzerland. Okay. But be warned that these are places known for mudslides. Mudslides occur when large amounts of water flow down steep slopes. The mud can be so thick, it can wash away whole towns.
Mudslides and landslides happen all over the world, from Nepal to Peru to Southeast Asia and back to Venezuela. There are gorgeous mountains and lush vegetation—but a good rain can send a mountain sliding down.
Some of the most sunniest places in North America are in winter climates. The temperature is cold and well below freezing, but seeing the bright sun every day can be uplifting. People who live along the Pacific coast enjoy warmer winters, but during the winter the it's mostly cloudy. In certain areas it can rain continuously for 3 or 4 months straight. In those cases, the sky can be very dark on a daily basis.
Many hot countries are too hot to go out and play during the middle of the day. Lovely island countries like Japan can face tsunamis, which are huge, powerful waves. The wide prairies have to deal with tornadoes. No matter where you live in the world, the weather can be wonderful or it can unpleasant.
The planet is a dynamic place with changing seasons and weather conditions. Luckily, human beings are smart. We are adaptable. We can live happily almost anywhere. The trick is to understand that no place is perfect and every place has its magic and beauty.
True, there may be reasons why your parents decide to move your family because of a job or finding a neighborhood with a good school for you. But wherever you are, when bad weather comes, you have the power to get through it. You don't have to move to enjoy the world. Just listen to your parents and put on that scarf!
Now let's read about your plans for the future.